Whether you're looking for a quick and easy dessert or just a quick chocolate fix, this self saucing chocolate pudding won't let you down. A few minutes to melt and mix and then just 6 minutes in the microwave and you're good to go!
This recipe just happens to be naturally eggless so, whether you have an egg allergy in your house or maybe you've just run out of eggs, if you need a self saucing chocolate pudding with no egg, this recipe has got you covered.
It's very easy to make - watch and learn!
Start by combining the flour, cocoa and sugar in your pudding bowl – mix them in the bowl you're going to cook your pudding in so make sure it's microwave safe. I like to use a glass dish.
In a smaller separate bowl melt your butter and chocolate together – melt for 30 seconds on high then stir, give it a bit longer as needed until melted and smooth.
Stir the melted chocolate mixture and the milk into the dry ingredients.
Once combined, smooth the top of the mixture to get ready for the magic self saucing ingredients.
Combine the brown sugar and extra cocoa and sprinkle over the top of the pudding mixture.
Carefully pour the boiling water over the top.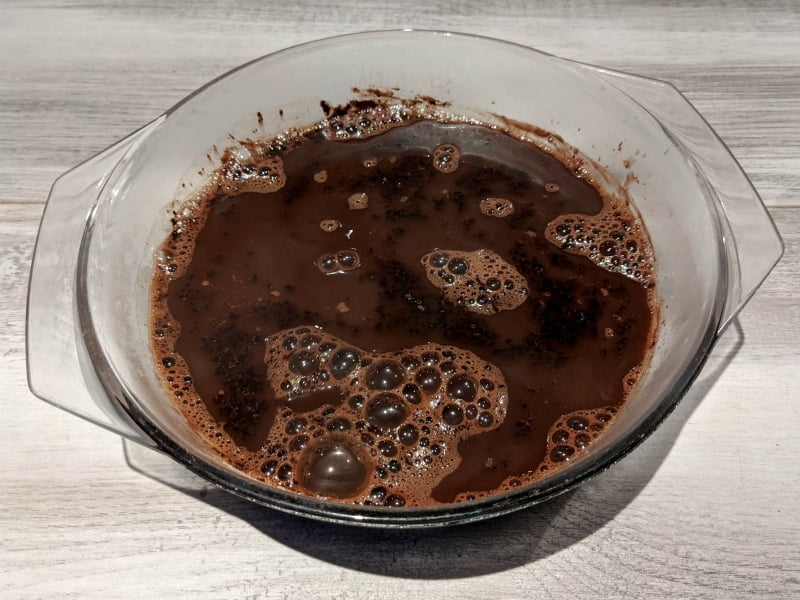 A pro tip I learned many, many years ago at a microwave cooking class: whenever cooking cakes in the microwave, stand them on top of an upside down dinner plate.
I can't remember what this elevation is supposed to do, but I always do this and my family loves this dessert so it seems to turn out well this way!
Cook for 6 minutes on high.
It should come out looking something like this:
Granted, it's not the prettiest looking dessert ever! But, dish it up with a scoop of vanilla ice cream and its looks won't matter to you at all!
Easy Self Saucing Chocolate Pudding Recipe
Print Recipe
Easy Microwave Chocolate Self Saucing Pudding
Ingredients
¾

cup

self-raising flour

2

Tablespoons

cocoa + an extra 2 Tablespoons cocoa for the sauce

⅓

cup

of sugar

100

g

chocolate

60

g

butter

½

cup

milk

¾

cup

brown sugar

1 ½

cups

boiling water
Instructions
Combine flour, cocoa (2 Tablespoons) and sugar in your microwave safe pudding bowl.

Place chocolate and butter in a small, microwave safe bowl and melt for 30 seconds on high. Stir - return to microwave for longer if not fully melted.

Stir melted chocolate mixture and milk into dry ingredients. Mix well.

Mix brown sugar with the extra cocoa (2 Tablespoons). Sprinkle over the pudding mixture.

Pour boiling water over pudding.

Cook for 6 minutes on high.

Stand for 2-3 minutes before serving.
This is the perfect dessert to whip up straight after dinner if you all feel as though you could still eat some more! It really only takes a few minutes and this very easy microwave chocolate self saucing pudding can be the perfect sweet end to your meal!