I wasn't sure what to call this recipe. My mother always referred to it as "pasty tart" but, it's not really a tart, it's more of a slice. Also, is it pasty or pastie? People seem to use both. In my mind it should be pasty and then, in the plural form, pasties, but it seems more common to stick with the ie ending even when referring to it as a singular object.
Anyway, no matter what you decide to call it, this dish is simple and delicious – it's basically minced beef and vegetables with mild curry flavouring wrapped up in a pastry case. Instead of making individual pasties (which could also be done with this recipe), you make one great big tart or slice that can be cut into portions once cooked. It's a quicker, more time efficient way of making pasties.
It's also a fantastic recipe to cook when you want to use up the vegetables left in the bottom of the fridge before shopping day – you can really throw in any veggies that take your fancy for this dish. I'd recommend always using potatoes as they add some nice bulkiness to the filling, other than that you can use carrots, celery, pumpkin, sweet potato, turnip, beans, peas and corn – anything you want to use up that you think will suit the pastie filling, go for it!
Begin by browning 500g of beef mince in a large saute pan or frying pan.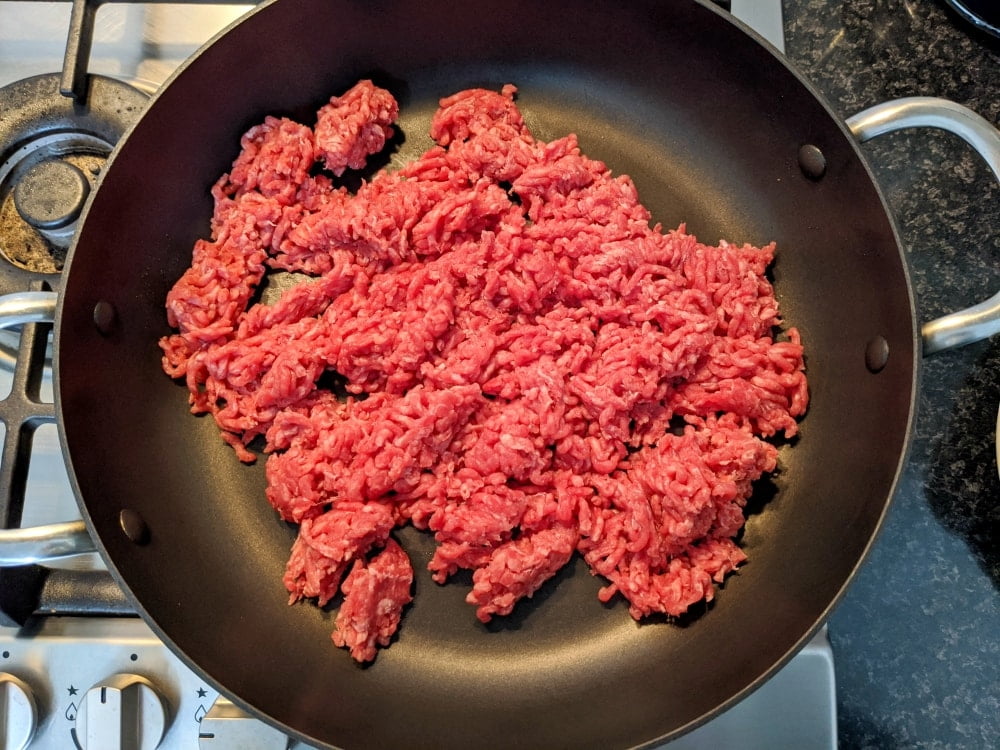 Try to break up the meat well as it browns. Add the onion.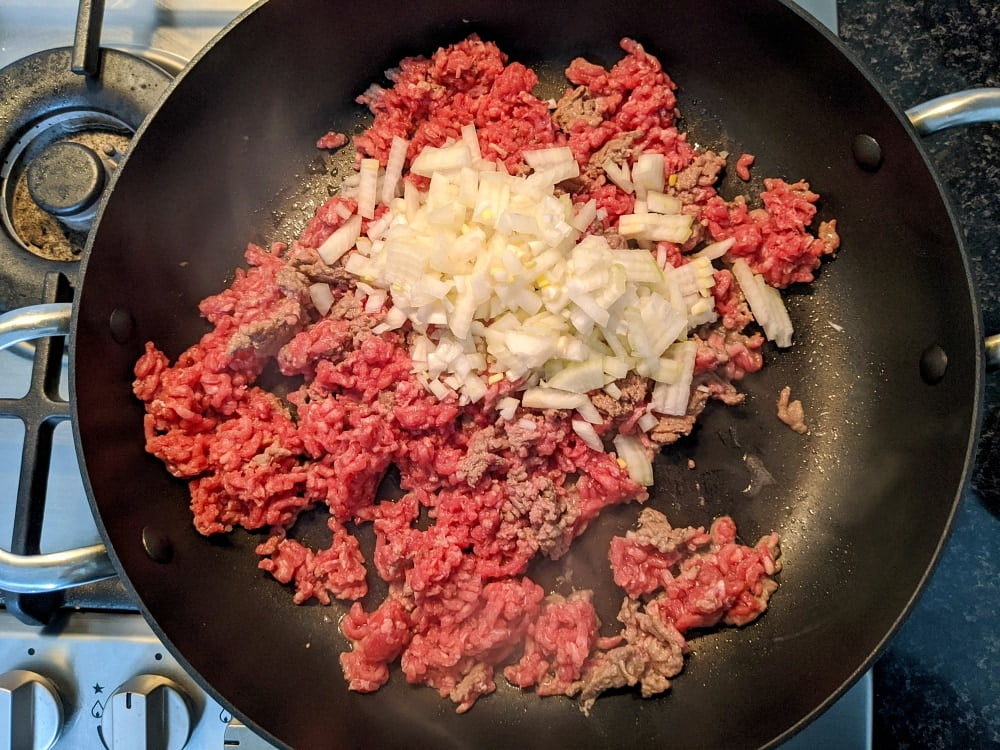 While stirring and browning, add the rest of the veggies (except for the peas – I usually add them later so they don't get mushy).
On this occasion I added celery, carrots, sweet potato and potato.
Give it a good stir and continue cooking until the meat has fully browned.
Add about a tablespoon of curry powder and stir through the meat mixture.
Next add 1 ½ – 2 Tablespoons of Worcestershire sauce.
Add about 2 Tablespoons of tomato sauce (ketchup to some) and stir to combine.
Then add 1 teaspoon of beef stock powder followed by 1 cup of water and mix it through well.
Then add some frozen peas and mix them through.
Put the lid on and allow mixture to simmer slowly for about 30 minutes or until most of the liquid has gone.
While the meat mixture is cooking, prepare the pastry in your oven dish. I just use store bought, frozen puff pastry for this meal – it's quick, easy and works every time! Get your pastry sheets out of the freezer and have them defrosting while you make the meat filling.
While the meat cooks, line a large baking dish with sheets of pastry – you'll probably need 2 sheets for the base and then 2 sheets to cover the top once the filling goes in.
I use a large, metal oven pan for this but ceramic or glass would also work – you basically want the sort of dish or pan you might cook lasagne in.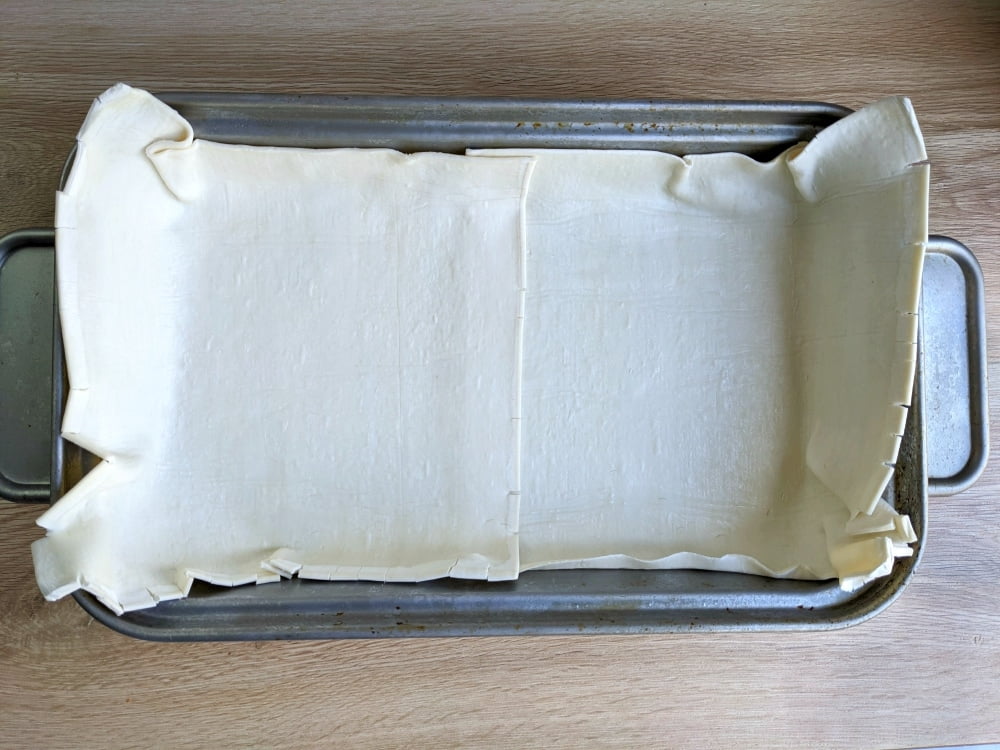 After half an hour or so of simmering the liquid should be pretty much gone and the vegetables should be soft and cooked.
Then simply transfer the meat filling to the pastry lined pan and cover with the remaining sheets of pastry.
Then, into the oven for about 40 minutes or until brown on top.
Slice and serve – delicious with a dollop of tomato sauce (or ketchup)!
Homemade Pastie Slice Recipe
Print Recipe
Homemade Pastie Slice Recipe
Ingredients
500

g

minced beef

1

onion

finely diced

Assorted vegetables

diced small (eg. potato, sweet potato, carrot, celery, pumpkin, beans, turnip)

1-2

Tablespoons

curry powder

1-2

Tablespoons

Worcestershire sauce

1-2

Tablespoons

tomato sauce

ketchup

1

teaspoon

beef stock powder

1

cup

of water

or use 1 cup of liquid beef stock instead of the powder and the water

½-1

cup

of frozen peas

could also add frozen corn kernels if desired

4

sheets ready made puff pastry

defrosted
Instructions
Brown mince meat in a large pan.

While browning add onion and other vegetables (except peas).

Add curry powder, worcestershire sauce and tomato sauce and stir through.

Add beef stock and water (or liquid beef stock).

Add peas.

Stir over heat until combined.

Reduce heat to a low simmer, cover and let cook for 20-30 minutes or until liquid has reduced.

Meanwhile line a large, oven safe pan or baking dish with 2 sheets of pastry.

Once filling mixture is cooked and liquid has reduced, spoon mixture into the pastry lined pan or baking dish.

Cover with remaining sheets of pastry, use fingers to tuck it in around the edges.

Place into a preheated oven at 180℃ (350℉) for about 40 minutes or until pastry is golden brown.

Cut into slices/squares and serve.

Can be eaten hot or cold and is especially delicious served with tomato sauce (ketchup).
Easy to make and a great way to use up those leftover veggies in the bottom of your vegetable crisper, this recipe has long been a favourite in our family (for many generations). We hope you'll give our homemade pastie slice recipe a try – let us know what you think!