Everybody's got their favourite cheesecake whether it be baked or no bake/non cook style. But, this lemon cheesecake is seriously the best homemade cheesecake you can make.
I have taken it to so many events and BBQ's and it always gets requested when I'm asked to bring a dessert. I've had adults almost in tears at a school event once when they realised my cheesecake was all gone and they didn't get a slice! It is seriously that good!
I can't take all the credit. This recipe originally came to me from my mother in law. She's been making it for years. She was happy to pass the recipe on to me though as now, when we have a family event, she doesn't have to bring the famous cheesecake.
She says it's nice to be able to make different desserts sometimes as she was always hounded with requests for this cheesecake everytime she went anywhere. Now she can get me to make the cheesecake and she can bring something different. As long as everyone gets their lemon cheesecake nobody minds who supplied it!
It's not difficult to make but it does take a little bit of forward planning. This recipe uses a can of evaporated milk which has been kept in the fridge for 24 hours. So, you need to start preparing for this cheesecake 2 days before you want to eat it. It needs 24 hours for the evaporated milk to chill and then 24 hours to set once the cheesecake is made.
I have been caught out before and realised I hadn't pre-chilled my can of evaporated milk. If this happens you can put the can in the freezer for a couple of hours – but then it can get a bit icy so, it's preferable to plan ahead and put your can of evaporated milk into your refrigerator 24 hours before you plan to use it.
Best Ever Lemon Cheesecake
Once you're ready to start making your cheesecake (when you've already pre-chilled your evaporated milk), line a 22cm springform pan with cooking spray and baking paper.
While this is technically a bakeless/unbaked/uncooked cheesecake, it does require a quick 10 minute bake of the biscuit crust. To make the biscuit crust, crush the biscuits and add the butter.
(We have biscuits called Marie biscuits in Australia – they're a plain, sweet biscuit or cookie perfect for this kind of thing, if you can't get Marie biscuits or something similar where you live, you could probably make a Graham Cracker crust)
Combine the biscuit crumbs and butter until all of the crumbs appear to be damp with the butter.
Then press the crust mixture into the base and sides of your prepared pan.
Bake the crust in a moderate oven (160℃ fan forced or 180℃) for 10 minutes.
Now to make the lightest, fluffiest, most delicious lemon cheesecake filling ever! The filling is the best part. It's so good I sometimes make it without bothering with the crust and we eat it more as a "lemon cheesecake mousse" of sorts but, if you're looking to impress, make the crust as well as the finished cheesecake looks and tastes amazing!
Begin by dissolving your jelly (or jello as it's known in some parts of the world) in ⅔ cup of hot water.
Stir until all the jelly crystals have dissolved and then add ⅓ cup of lemon juice (this will be the juice of 1-2 lemons depending on size and juiciness of your lemons).
Set the jelly/jello mixture aside and add your pre-chilled evaporated milk to a large mixing bowl or the bowl of a stand mixer.
Beat this mixture until it is very thick – it will take 5-10 minutes. I usually leave the evaporated milk to whip on my stand mixer while I use a food processor to do the next steps.
While the evaporated milk is whipping use a different device (blender/food processor or hand held beaters) to beat the cream cheese. Once the cream cheese is smooth, add the sugar and vanilla.
Beat this together until smooth.
By now your evaporated milk should be looking thick and frothy. Add the cream cheese mixture to the evaporated milk a little at a time while the mixer is still running.
Then, while the mixer is still running, add the (still warm) jelly and lemon mixture.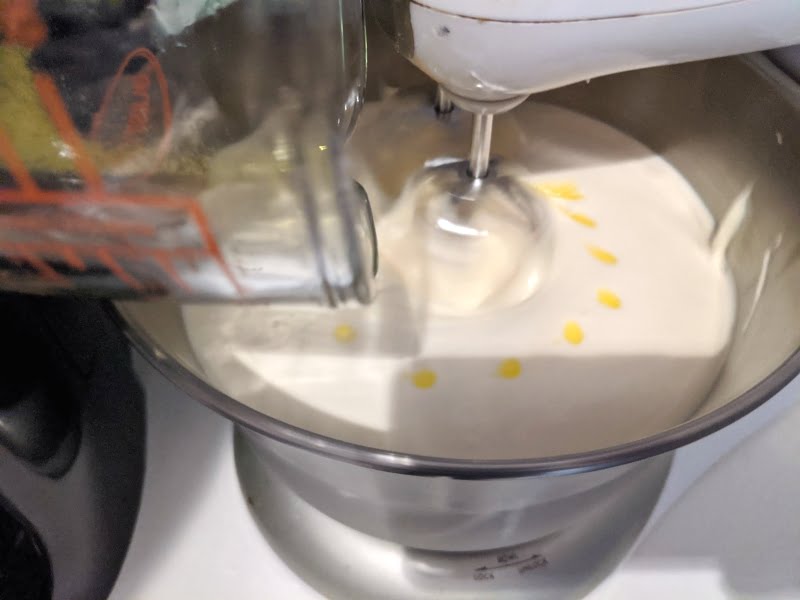 Once the mixture has combined you'll have a frothy, fluffy, light and airy, slightly yellow looking filling like this:
Pour the filling mixture into your pre-baked crust.
Smooth over the top as best as you can and then chill in the fridge for 24 hours.
Garnish with strawberries or crushed pineapple.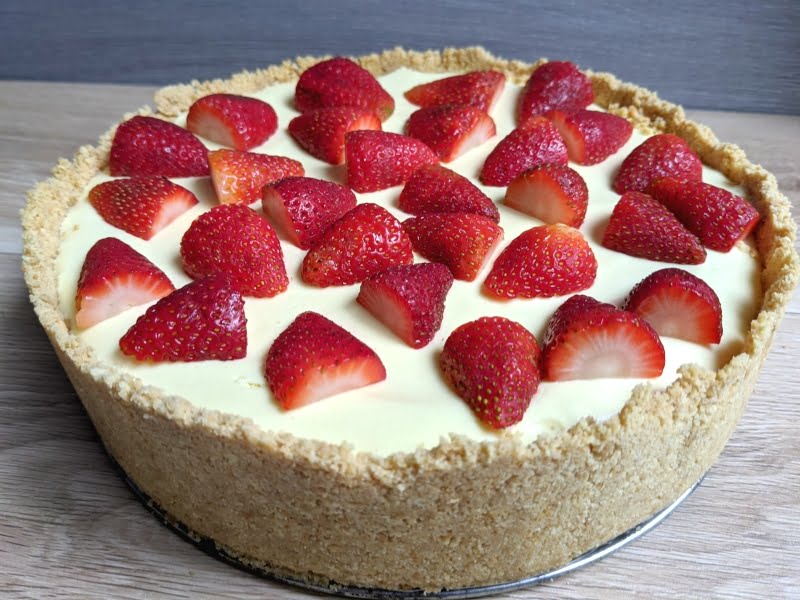 Best Ever Lemon Cheesecake Recipe
Print Recipe
Lemon Cheesecake Made With Lemon Jelly (Jello) And Evaporated Milk
Ingredients
250

g

Marie biscuits

or similar

125

g

Butter

375

g

can Evaporated Milk

which has been refrigerated for 24 hours

1

packet Lemon Jelly/Jello

1

teaspoon

Vanilla Essence

⅔

cup

Hot Water

Juice of 1-2 lemons

⅓ cup

250

g

Cream Cheese

1

cup

Caster Sugar
Instructions
Crush the biscuits, melt butter and combine.

Press into the bottom and sides of a 22cm springform cake pan

Bake in a moderate oven for 10 minutes.

Dissolve jelly in the hot water then add the lemon juice and set aside.

Whip the evaporated milk until very thick.

Meanwhile separately beat the cream cheese and add the sugar and vanilla.

Add the cream cheese mixture to the well whipped evaporated milk.

While the mixer is still going add in the (still warm) lemon jelly mixture.

Pour the filling into the biscuit case and chill for 24 hours.

Garnish with strawberries or crushed pineapple.
In adding this recipe to Our Best Family Recipes I struggled to know what to call it. We usually refer to it as "Nanna's Cheesecake" even though it's usually me who makes it now. The fact is this cheesecake ticks a lot of boxes and could have been called any number of things from no bake, bakeless, unbaked to lemon jelly/lemon jello cheesecake.
In the end I decided to title the post "Lemon Cheesecake Made With Lemon Jelly (Jello) And Evaporated Milk" because I know this is something people search for once they have tried this recipe.
They remember it had jelly and evaporated milk in it and they desperately want to replicate it (because it tastes so good). I figured if I named it that more people could find this recipe and use it to make their favourite cheesecake that they've lost the recipe for.
But, you might also notice in the recipe section I've simply titled it "Best Ever Lemon Cheesecake" because that's what it is and always will be to our family!