If you're a baked cheesecake fan, you need to give this baked berry cheesecake a try. Just as delicious as our famous lemon cheesecake, but with a smoother, creamier texture that will delight any baked cheesecake fan.
What's more, it's easy to prepare and bake – no water bath needed! All you need is a springform pan and you're ready to go!
This cheesecake requires 3 x 250g blocks of cream cheese, which is pretty expensive! So, to help cut down on the costs, rather than using fresh berries (which can be very expensive when they're not in season), I usually use a tin of mixed berries like this one:
While I would not normally buy tinned fruit in syrup, using it on this occasion adds to the effect of the berries on the top of the cake so it's a tradition I've stuck with even when fresh berries are in season. That being said, I will often supplement the tinned berries with fresh or frozen berries if I happen to have some.
Start with a typical cheesecake base by combining biscuit crumbs and butter and then pressing this mixture into the base of a lined, 22cm (9 inch) springform pan. Then this just needs to chill while you mix up the filling ingredients.
Use an electric mixer – stand mixer or hand beaters to beat together the (softened) cream cheese, sugar, cream, vanilla and cinnamon until smooth. Then add the eggs and cornflour and beat until combined.
Take your prepared crust out of the fridge and pour your cheesecake mixture into the pan. It should look something like this:
Then pop it straight into the oven – no water bath required! Some people can't believe that baking a cheesecake without a water bath is possible, but this cheesecake is here as living proof that it is!
You've got the next 15 minutes to prepare your berries. If using canned berries, simply open the tin and pour the berries into a strainer to strain off the syrup.
If you're using frozen mixed berries, pour them out onto some paper towels to let them defrost a little.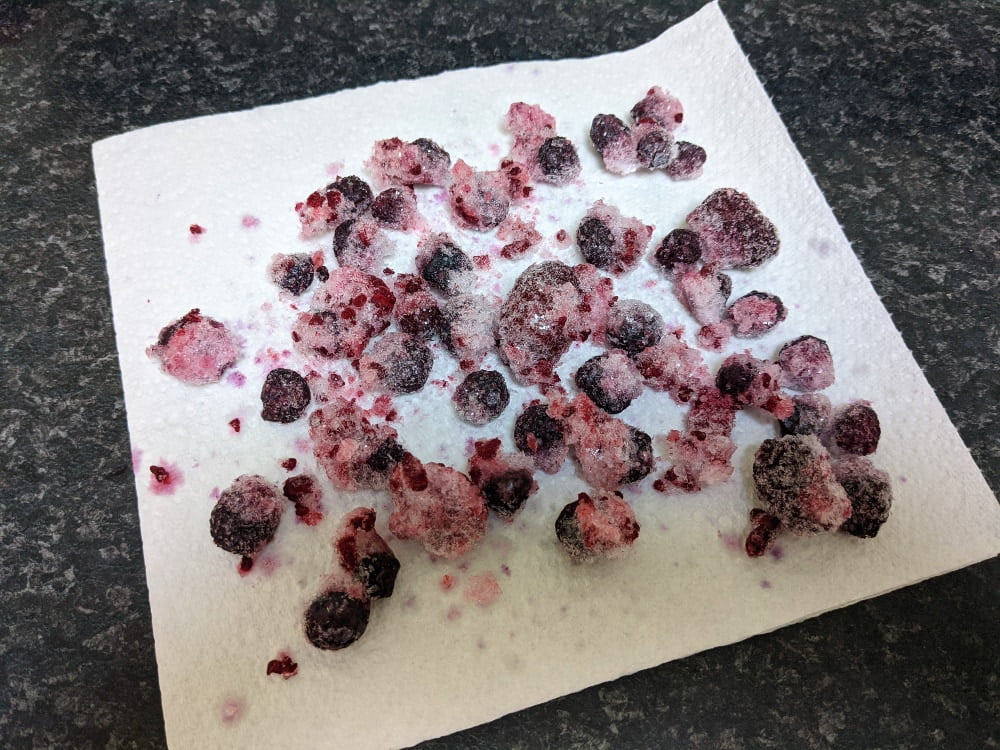 If you're using fresh berries simply give them a wash and let them dry. If you have any really big berries, like strawberries, you might like to cut them into smaller pieces.
Once your cheesecake has partially baked for 15 minutes, carefully remove it from the oven and then gently scatter your berries on top.
Then carefully place it back into the oven.
Bake for a further 40 to 45 minutes or until the cheesecake is just firm. Turn off the oven but leave the cheesecake inside to cool completely.
Once cool remove your masterpiece from the oven. The syrupy berry juice forms a nice looking glaze over the top of the cheesecake.
Then all that's left to do is to remove it from the springform pan and enjoy!
Baked Berry Cheesecake Recipe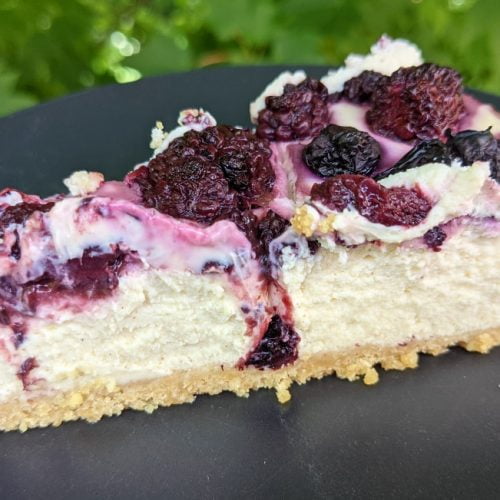 Print Recipe
Baked Berry Cheesecake
Ingredients
1 cup of sweet biscuit crumbs

(I use Marie biscuits - about half a packet of Marie's will give you 1 cup of crumbs)

90g of butter

melted

750g cream cheese

(Cream cheese is usually sold in 250g blocks, so you'll need 3 of these) soften this first by taking it out of the fridge for a while before you begin.

1 cup caster sugar
½ cup cream
2 teaspoons vanilla essence
2 teaspoons cinnamon
2 eggs

lightly beaten

2 Tablespoons cornflour
1 ½ cups of frozen or fresh mixed berries

or 1 x 415g tin of mixed berries, or a combination of these
Instructions
Combine the biscuit crumbs and the butter and then press into the base of a lined 22cm (9 inch) springform pan to make the cheesecake base.

Beat together the softened cream cheese, sugar, cream, vanilla and cinnamon until smooth.

Add eggs and cornflour to the mixture and beat until combined.

Pour mixture into the prepared crust.

Bake for 15 minutes at 160℃ / 320℉

Gently scatter berries on top.

Return to oven and bake for a further 40-45 minutes until it is just firm.

Allow to cool completely in the oven.
You don't get an easier baked cheesecake recipe than that! If you're not a fan of berries you could simply leave them off and you'd have a delicious baked vanilla cheesecake, but, trust me, the berries are delicious on this cheesecake.
Let us know what you think if you've given this recipe a try.