If you've never heard of hedgehog slice before then you're probably not from Australia. Traditional chocolate hedgehog slice is a firm family favourite here.
It's commonly found in cafes and bakeries as a treat to buy for morning or afternoon tea but, the best chocolate hedgehog slice is always homemade!
It's so easy to make you virtually can't go wrong and your friends and family will adore you if you serve this amazing slice up for them as a treat.
There are many different recipes around for hedge hog slice. A lot contain nuts but, as my family is not keen on the hardness of nuts in this slice, our family hedgehog recipe is nut free.
Don't worry, you'll still get the crunch you expect from a hedgehog slice, but it comes from the biscuit pieces rather than the nuts. By chance, this recipe also happens to be egg free so, if egg free and nut free are necessary for your family, then this is a great recipe for you!
Oh and, did I mention that this slice is also a no bake recipe? Sounds too good to be true right? Trust me, it's quick, easy and delicious and sure to become a firm family favourite in your house too!
How To Make Hedgehog Slice
First, line a 28cm x 18cm slice tin with baking paper. Then transfer the Marie biscuits into a large ziplock bag. Place the bag onto the benchtop, squeeze out any excess air and seal it up. Then grab a rolling pin and smash up the biscuits until they are crushed.
But be sure not to smash them up too much – there should be some small chunks of biscuit left. (This is what will make the crunchy, hedgehoggy texture of the slice!)
Next, transfer the crushed biscuits into a large mixing bowl and add in the coconut and cocoa. Then stir it all together.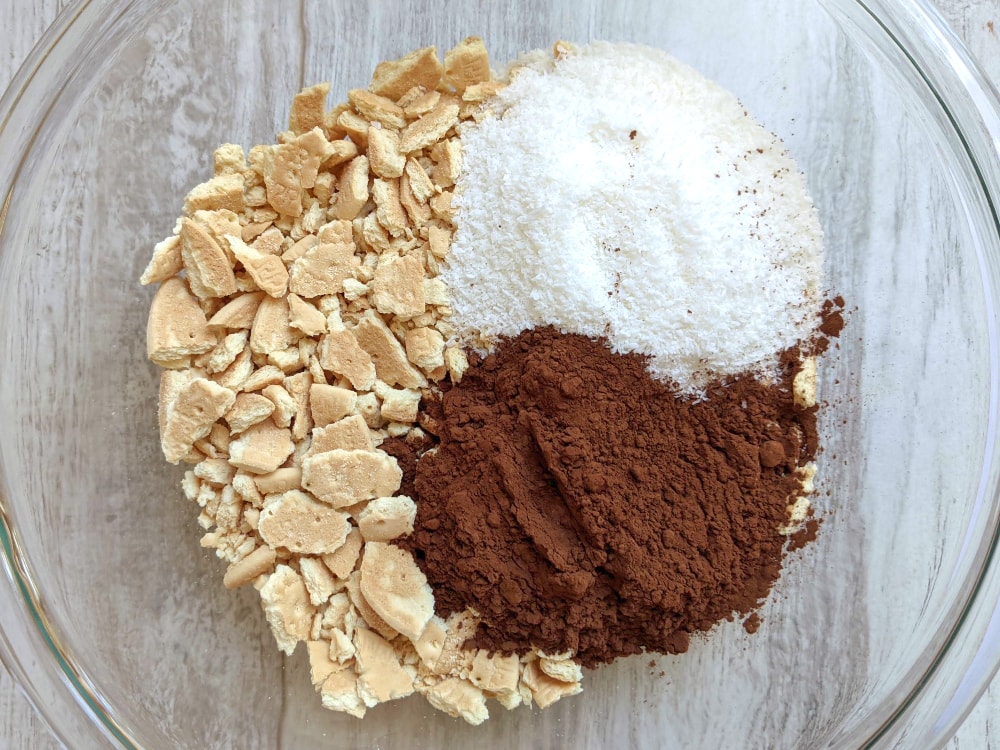 In a small saucepan, heat the chocolate, butter and sweetened condensed milk on low heat. Stir the mixture until the butter and chocolate are completely melted and everything has combined. Let the mixture cool for 1-2 minutes.
Pour the chocolatey mixture into the dry ingredients and then mix it all together until everything is fully combined.
Pour the mixture into the prepared slice tin and spread it evenly. Then, place the slice into the fridge for about 30 minutes or until firm.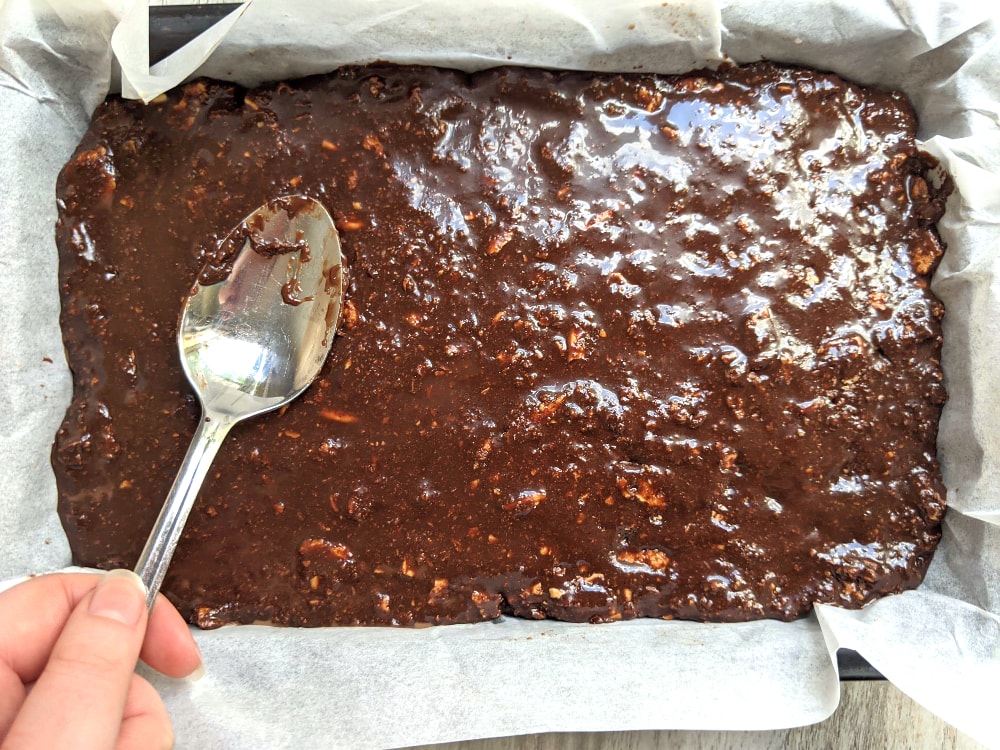 Time to make the chocolate topping! This is super simple. In a small microwave safe bowl, heat the chocolate in the microwave in 30 second intervals. Stir the chocolate between each allotment and repeat until the chocolate is melted.
Add in the vegetable oil and stir until smooth. This will make it easier to cut the slice when the time comes, because the chocolate won't set as hard – no more cracked and messy chocolate!
Once the base of the slice has been in the fridge for 30 minutes, take it out and pour on the chocolate topping.
Spread it evenly over the slice and then give the tin a light tap on the bench to get rid of any air bubbles and to even out the chocolate a little more.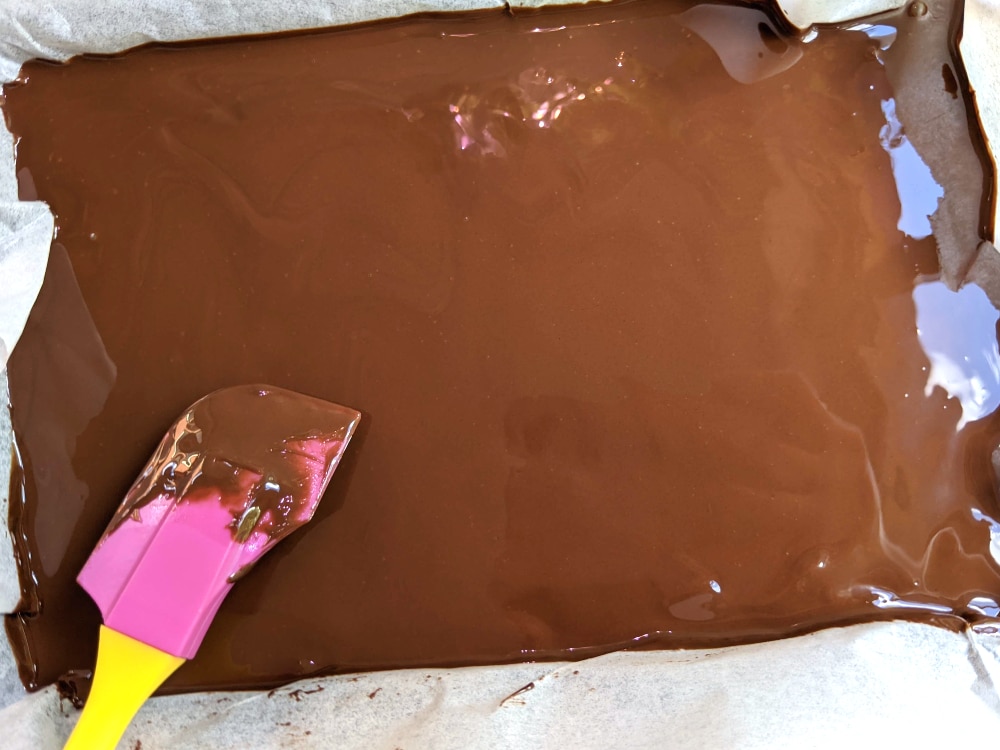 Place the slice in the fridge again for 30-40 minutes, or until the chocolate has set.
Once the chocolate has set, take it out of the fridge, pull it out of the tin and place it on a cutting board. Cut the slice into pieces and enjoy!
Chocolate Hedgehog Slice Recipe
Print Recipe
Chocolate Hedgehog Slice
Ingredients
The Base
1 packet Marie biscuits

(or other plain, sweet biscuits)

½ cup (40g) desiccated coconut
2 tbsp cocoa
1 cup (150g) dark chocolate , chopped
100g butter , chopped
The Chocolate Topping
1½ cups (225g) dark chocolate , chopped
1 tbsp vegetable oil
Instructions
Line a 28cm x 18cm slice tin.

Place biscuits in a zip-lock bag and squeeze to remove excess air. Place on hard surface and hit with rolling pin to crush biscuits - make sure not to crush too fine - you want some larger chunks left in there to create that hedgehog crunch.

Transfer crushed biscuits into a large bowl. Add coconut and cocoa. Stir to combine and set aside.

In a small saucepan, combine dark chocolate, butter and sweetened condensed milk. Stir over low heat until melted and fully combined. Cool mixture for 1-2 minutes.

Pour chocolate mixture into dry ingredients. Stir to combine.

Press mixture firmly into prepared pan. Refrigerate for 30 minutes or until firm.

Once the base is firm, place dark chocolate in a microwave safe bowl. Microwave in 30 second intervals until melted, stirring between each allotment. Add vegetable oil and stir until smooth.

Pour chocolate topping over slice and spread evenly. Refrigerate for 30-45 minutes or until set. Cut into squares to serve.
Chocolate hedgehog slice never lasts long in our house, it gets devoured pretty quickly. Depending on the weather, you might want to store your slice in the fridge as it can become a bit soft and gooey if the weather is too warm.
But, don't worry, you won't have to store it for long, just offer some to family and friends and you'll have none left in no time! We hope you enjoy our take on the traditional chocolate hedgehog recipe.
If you're especially fond of nuts you could always add a few in – walnuts would probably suit it quite well, but we think our nut free recipe is the best!