It's a bold statement to claim that this is the recipe for the best tiramisu in the world, but I stand by it! Tiramisu is a traditional Italian dessert, typically made with ladyfingers/sponge fingers or savoiardi biscuits, coffee, marsala and mascarpone cheese. Sounds like a really weird combination of ingredients, right?
There might even be some ingredients there that you haven't heard of. While Tiramisu is a lot more common place these days (you'll find it on dessert menus in most Italian restaurants as well as other bistros and restaurants too), when I was first introduced to it, as a kid back in the 1980's, it was considered fairly exotic and unusual!
My Mum first introduced me to tiramisu. She'd had it at a dinner party (they used to be pretty common place back in the 1980's) and came home with the recipe for it as well as instructions on where to buy the ingredients.
Back then we had to source our mascarpone and savoiardi biscuits from specialized little delis that would stock exotic foods from other countries. These days you can get everything you need to make your own homemade tiramisu from a supermarket.
Yep, just nip into Coles or Woolies (or your local IGA) and, with a quick stop at the attached bottle shop to pick up a bottle of Marsala, you'll have all the ingredients you need in no time.
Here's a picture of the ingredients you'll need to make your very own tiramisu:
The ingredients are pretty straightforward. You'll see there are some eggs – this traditional tiramisu recipe is made using raw eggs, so if there's a reason you can't eat raw eggs, this is not the recipe for you.
You'll also notice in the picture that there is a cup of black liquid. That is a cup of black coffee. You can use any type of coffee you like for this recipe, if you're really into your coffee, you might like to make freshly ground and plunged coffee.
I'm not really a coffee fan (and you can't really taste the coffee in this recipe) so I like to use good old instant coffee – Nescafe Blend 43 to be exact, because it's what we have in the house! The recipe does call for 'strong' coffee, so I use about 2 teaspoons of instant coffee for my cup of black coffee.
It works for me and I've never had a complaint about my tiramisu yet, so Nescafe coffee has become part of my tiramisu recipe.
The savoiardi or ladyfinger biscuits can usually be found in the biscuit aisle of your supermarket – look at the top and/or bottom shelves as they're not big sellers so they don't tend to be placed in a very prominent position. I've used a couple of different brands for this type of biscuit before, whatever you can get will work fine.
You'll probably find the mascarpone near the cream cheese or in the fridges near the delicatessen. If you can't find it, ask a staff member. Sometimes they run out of mascarpone – typically around Christmas time when everybody is making desserts for parties and celebrations.
If you can't get it at the supermarket then your local delicatessen should be able to find some for you, but it has become a fairly common ingredient these days so it shouldn't be hard to source. You might notice in the photo I have added two tubs of mascarpone.
This recipe only requires one 250g tub of mascarpone, I am used to doubling the recipe as I often make this dessert for Christmas parties, so I forgot and bought two tubs when I was shopping – it means we'll get to enjoy another batch of homemade tiramisu again soon!
The bottle labelled 'Boronia' might be the other ingredient in the picture that's got you wondering what it is. That is the bottle of Marsala – 'Boronia Marsala' is it's full name. Marsala is a dessert or fortified wine which is commonly used in cooking.
It's inexpensive as far as alcohol goes, and you only need 5 Tablespoons for this recipe so you'll get plenty of serves of tiramisu out of the bottle. Or you could also use it for cooking other things like Chicken Marsala.
The important thing to note here though, is that yes, tiramisu does contain alcohol and, as it's not cooked off in the process of making tiramisu, by eating tiramisu, you will be consuming alcohol. Something to keep in mind if you are avoiding alcohol for any reason. I happen to be a non drinker yet I'll happily consume tiramisu.
I don't really find that you can taste the alcohol in it and, as it's such a small quantity, I've never felt any effects from the alcohol. But, if you are a young driver on your 'P' plates and therefore not allowed any alcohol in your system for driving, you'll probably want to give the tiramisu a miss!
So, now that we've learned about the ingredients involved in tiramisu, let's get down to how to make tiramisu. First things first, you'll need to make a cup of strong black coffee. Make it however you like, instant or from a machine, and then just let it sit and cool while you prepare the rest of the ingredients.
Begin by separating your eggs. You want to put your whites and your yolks into separate bowls that are large enough to fit a hand mixer into as you're going to be beating each part of the egg separately.
Next add the sugar to your egg yolks and beat together until the mixture becomes thick and creamy.
Set that mixture aside and separately beat your egg whites until stiff.
Next, add the mascarpone to the egg yolk and sugar mixture, one spoonful at a time, stirring as you go until it forms a smooth cream.
Then, fold in the beaten egg whites.
Now that the tiramisu cream is prepared, it's time to start assembling the tiramisu. First you will need to add the marsala to your prepared cup of black coffee.
Tip the, hopefully now cool, coffee into a medium sized bowl (you'll need to be able to dip your biscuits into this liquid so make sure you've got enough room for that), then add your marsala.
Here's a closer look at the marsala I use in case you're having trouble finding it: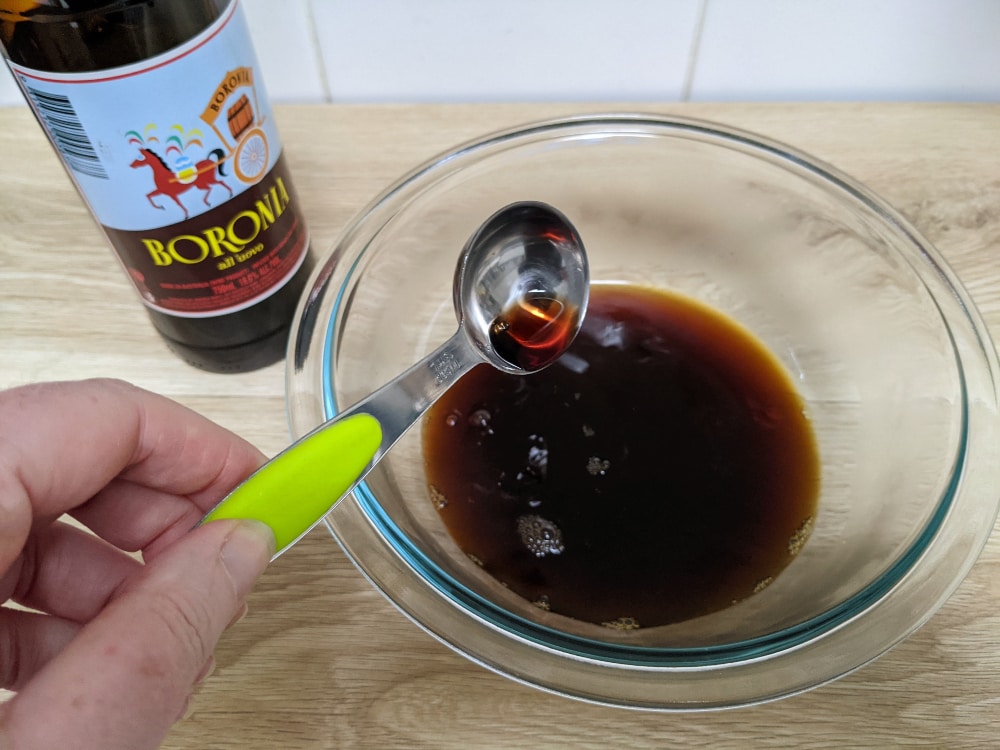 If your coffee has not quite cooled, the addition of the marsala will help to bring the temperature down to a manageable level so that you can begin the dipping process.
You'll want to have your tiramisu serving dish ready – I usually use a nice glass bowl but, I confess, I was only making this batch of tiramisu for the purpose of writing this article and not to serve it at a fancy event.
My fancy serving bowls are in a hard to reach place in a hard to get to cupboard, so I decided to just demonstrate the process using a basic Pyrex casserole dish – it still tasted great, just didn't look quite as flash!
Dip each biscuit into the coffee/marsala liquid. Very gently squeeze excess moisture out – you want each biscuit to absorb some of the liquid and flavours but you don't want them too soggy.
Create a layer of soaked biscuits in the base of your serving dish.
It's OK to break up the biscuits to make them the right size to cover the base of your dish – your aim is to make sure that every mouthful will get some of the biscuit layer as well as some of the cream layer.
Cover that biscuit layer with half of your creamy, mascarpone mixture – remember to keep half for the top layer.
Then repeat the process and add another layer of coffee and marsala soaked biscuits.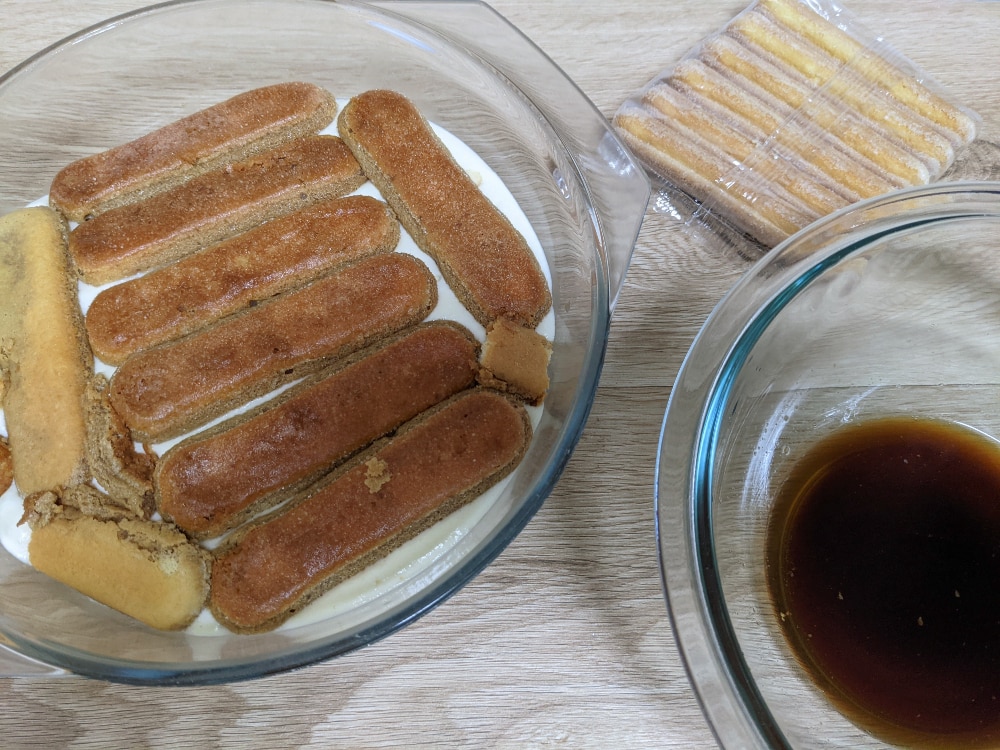 Finish with a layer of creamy goodness on top.
Cover and chill in the fridge for at least 2 hours or even overnight – this is a good dessert to make the day before the party.
Before serving, grate some dark chocolate over the top of your delicious dessert.
Enjoy! I was keen to get this photographed (and eaten) so, as you can see, it hasn't quite finished setting – that's why I normally make my tiramisu the day before it is needed. Still tasted amazing though!
Homemade Tiramisu Recipe - Best Tiramisu In The World!
Print Recipe
Homemade Tiramisu
Ingredients
3

eggs

4

Tablespoons

sugar

250

g

Mascarpone cheese

250

ml

(1 cup) cold, strong black coffee

(I use Nescafe instant coffee)

5

Tablespoons

Marsala

200

g

sponge fingers

Grated dark chocolate
Instructions
Make a cup of strong, black coffee and set aside.

Beat egg yolks and sugar until mixture becomes thick and creamy.

Beat egg whites separately until stiff.

Add mascarpone to the egg yolk mixture, one spoonful at a time, stirring into a smooth cream.

Fold in the beaten egg whites.

Mix coffee and marsala in a separate bowl.

Dip sponge fingers into this mixture and arrange in a layer in a serving dish.

Pour half the mascarpone mixture over this.

Repeat with another layer of coffee/marsala dipped sponge fingers.

Top with remaining mascarpone mixture.

Cover and chill in the refrigerator for 2 hours (or more, or overnight).

Sprinkle with grated dark chocolate before serving.
If you'd never heard of tiramisu and someone told you they were going to make you a dessert combining raw eggs, coffee, mascarpone cheese and marsala, you'd probably be fairly cautious about trying it!
Once you've tried tiramisu, you know just how good this flavour combination is and, as always, homemade always tastes better! I don't often order dessert when dining out. Once or twice I've been tempted by the tiramisu, but it's never as good as this homemade tiramisu.
Just like my famous lemon cheesecake, this tiramisu has a reputation amongst friends and family and there are a few events that I'm not allowed to turn up to without my famous tiramisu or cheesecake, or both!
Maybe this tiramisu will become your classic go-to dessert that all your friends and family want you to make every time! Give it a go – it really is delicious and, I believe, the best tiramisu in the world!