Pulled or shredded chicken is so easy to make at home and is such a versatile ingredient. You can use your homemade slow cooked pulled chicken in tacos, sandwiches, enchiladas or salads – really whatever takes your fancy.
Slow cooking the chicken breasts in a small amount of liquid stock ensures that your chicken is moist and tender and easily pulls apart whether you're using forks, bear/meat claws or a food processor to shred your chicken.
There are plenty of ways to make pulled chicken. I like to use the 'slow cook' function on my Tefal 45 in 1. You can use whatever type of slow cooker that you happen to have, but using a 'multicooker' like this one, means my chicken breasts are slow cooked and ready for shredding in 1 and a half hours.
Meanwhile, in a regular slow cooker or crock pot, you'd need to cook your chicken breasts on high for 3-4 hours or on low for 7-8 hours, depending on the type of slow cooker and available settings.
This particular recipe for 'Cajun Pulled Chicken' could not get any easier. Simply start with a jar of Cajun seasoning like this one:
And then sprinkle it fairly liberally over two chicken breasts.
Add a teaspoon of chicken stock powder and about a cup of water to your slow cooker (or multi-cooker).
Add your seasoned chicken breasts to the slow cooker.
Close the lid and start the cooking process. For my 45 in 1 multicooker machine, this means pressing the menu button until the little arrow points to 'slow cook'.
Then pressing the right side arrow until the top little arrow points to the picture of the chicken drumsticks.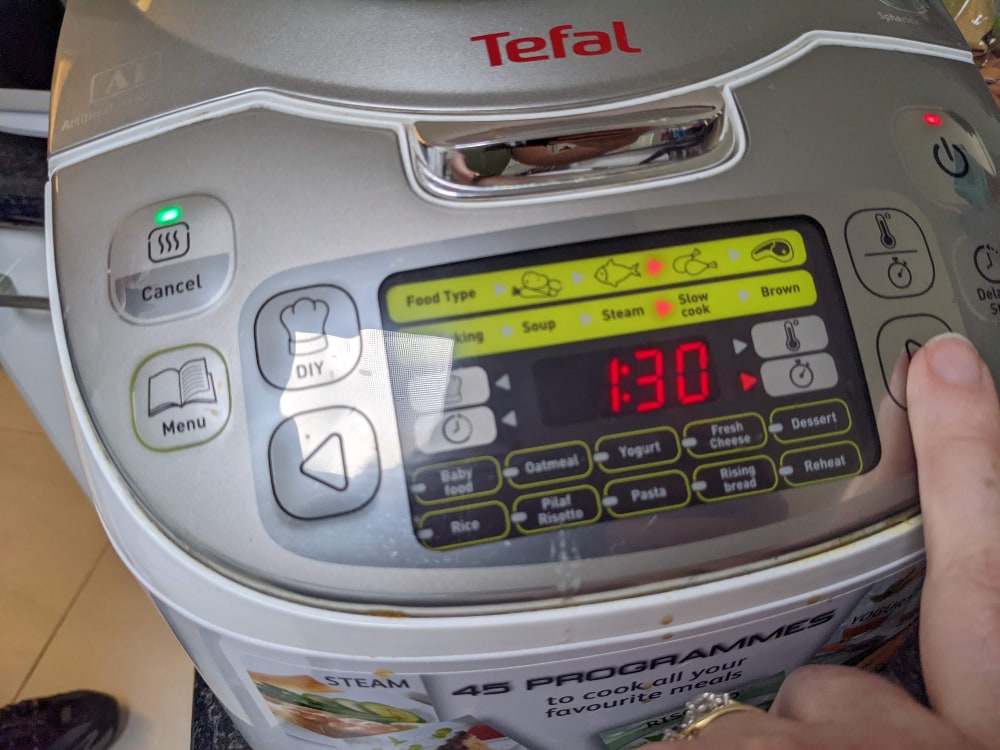 So your machine should have an arrow pointing to the chicken and an arrow pointing to 'slow cook' which should bring up the preset time of 1:30, so that it will cook for one hour and 30 minutes.
Then just hit the start button:
One of the best things about slow cooking is that, once you've started the cooking process, you're free to go ahead and do other things while your food cooks!
Using the multicooker means I only needed to leave it for 1 and a half hours and then I returned to beautifully cooked, fall apart, slow cooked chicken.
Take the chicken out of the slow cooker, using tongs, forks or meat claws, and place the pieces on a cutting board or plate. You can see my chicken breasts fell apart a bit from just lifting them out of the cooker.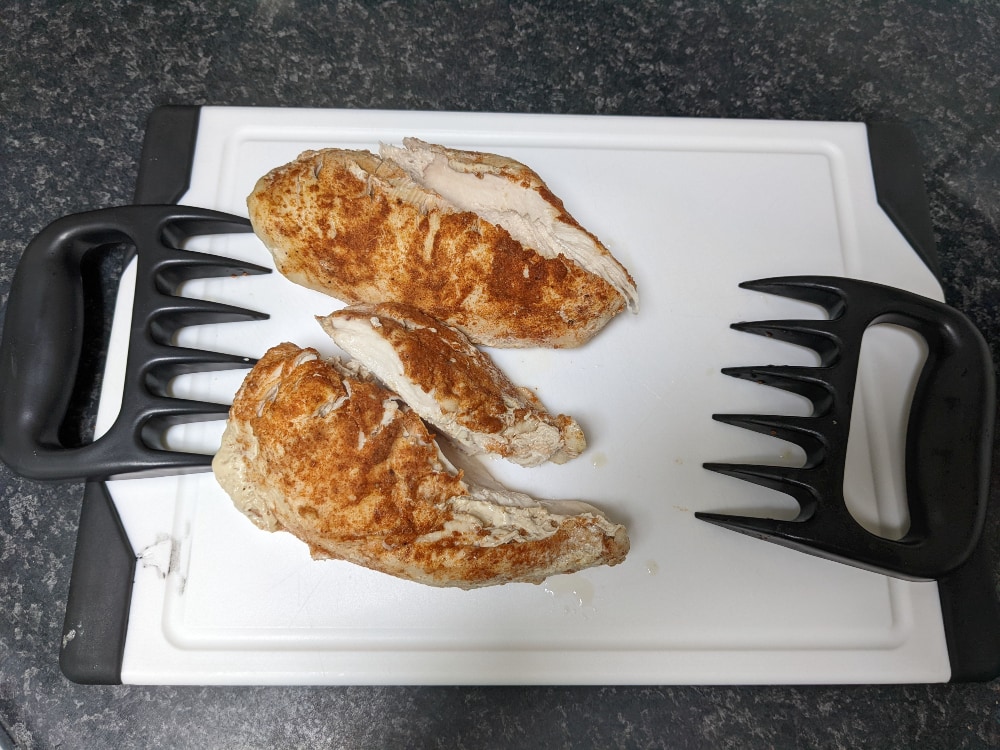 Then it's finally time to 'pull' or 'shred' the chicken. You can use whatever method you like to do this. I happen to be lucky enough to have some meat claws which certainly make the process quick and easy but it's also pretty easy to do just using two forks.
Then you can use your shredded or pulled chicken in any way you please. I had some leftover coleslaw and some lovely fresh bread rolls, so we had a delicious lunch of slow cooker cajun pulled chicken with coleslaw on fresh white bread rolls with extra mayonnaise.
The spiciness of the cajun seasoning gives the shredded chicken a lovely flavour, rather than store bought pre shredded chicken which is sometimes fairly bland tasting.
Easy Slow Cooker Cajun Pulled Chicken Recipe
Print Recipe
Easy Slow Cooker Cajun Pulled Chicken
Ingredients
2 Tablespoons

Cajun Seasoning

(or your preferred seasoning/chicken rub)

1 Teaspoon

Chicken Stock Powder

1 Cup

Water

2

Chicken Breasts
Instructions
Coat chicken breasts in Cajun seasoning.

Add chicken stock powder and water to the bottom of your slow cooker or multifunction cooking machine.

Add seasoned chicken breasts to the slow cooker.

Slow cook according to your machine - the Tefal 45 in 1 only takes 90 minutes to slow cook chicken. A regular crock pot or slow cooker will probably take around 3-4 hours on high or 7-8 hours on low.

Once chicken is cooked, remove it from the slow cooker and discard the liquid.

Use forks or meat claws to shred or pull the chicken.

Serve hot or cold in whatever way you like - sandwiches, wraps, salads, tacos…
You're not limited to just using cajun seasoning in this recipe. If you don't like Cajun, or don't happen to have any, you can use another type of spice mix or seasoning, or even just use a little bit of salt and pepper on your chicken breasts before braising them in the chicken stock.
Whichever way you choose to cook your chicken, make sure it's a 'slow cooked' type of cooking as this will result in the best pulled chicken – the pieces literally start falling apart which makes it very easy to shred!
I hope you give this slow cooker pulled chicken recipe a go, it's so easy and results in such tasty and versatile chicken.