To be honest I feel a bit strange publishing a coleslaw recipe. I mean, everyone knows how to make coleslaw don't they? To me it's a bit like writing a recipe for a vegemite sandwich – you don't follow a recipe, you just do it!
But, I have to admit that my homemade coleslaw is both famous and seriously good, so I guess it's a recipe worth sharing. This is my 'famous' recipe that is requested by anyone who invites us to a BBQ or bring-a-plate kind of party or get together. (Along with my famous lemon cheesecake!)
So now, whenever I get requests for my famous, seriously good, coleslaw recipe (happens more often than you might think!) I can simply direct people to this page here.
If you've tried any of my other recipes before, you'll be familiar with the fact that I am not a fussy cook. I don't usually follow a recipe strictly, but rather like to make use of whatever ingredients I have on hand.
To make this post with this coleslaw recipe I deliberately made sure I had all of the elements I like to add to my coleslaw. But, it is very common for me to not always have all of the ingredients on hand when making coleslaw.
As long as you have cabbage (and I'm not even fussy as to what sort – I usually use regular green (drum head?) cabbage, but you can also use savoy cabbage and/or purple cabbage) and maybe a carrot and some onion as well as your favourite mayonnaise, then you can go ahead and make some coleslaw.
In an ideal world, these are the ingredients I like to add to my famous coleslaw and, if I am making it for an event/BBQ or party, I will try to make sure I have at least most of these ingredients on hand. For regular weeknight cooking for my family though, as long as there is cabbage, carrot, onion and mayonnaise, coleslaw can be made.
As you can see from the picture, to make the best version of this seriously good coleslaw you'll want to use cabbage, carrots, onion, spring onion, apple, celery, red capsicum, green capsicum, mayonnaise and coleslaw dressing.
Which brings me to my next, important point:
What Is The Best Coleslaw Dressing To Buy?
Yes, I use store bought dressing for my famous coleslaw! If you prefer to use your own, homemade mayonnaise that's fine, but I love the tangy taste of this particular mayonnaise.
I'm not really a fan of creamy coleslaw and much prefer it to have a flavorful tang. This mayonnaise is great for that. The only problem is, it can be difficult to buy.
I believe it was originally Kraft Mayonnaise but then with a change of ownership for Kraft, my preferred mayonnaise was renamed Zoosh. To complicate things further, Zoosh Mayonnaise is hard to find.
It is never stocked in my local Woolies or Coles supermarkets, but luckily my local IGA stocks it. My family loves it so much that we make a special trip to the IGA just to buy this mayonnaise! And we buy several bottles each time we go to keep our pantry well stocked!
I just did a quick search on Amazon to see if it was available there, and it looks like it is! But it is packaged differently and comes in bulk containers or tubs. I haven't been brave enough to try it this way in case it doesn't taste the same and I'm left with a huge tub of mayonnaise we don't like!
Here it is if you'd like to try it.
But, the secret to my seriously good coleslaw is to combine this delicious tangy mayonnaise with some regular Praise coleslaw dressing. I use about 50/50 of each and mix it through to give a truly sensational taste!
How To Make Coleslaw Quickly & Easily
I know some people don't like to make homemade coleslaw because of all the cutting and chopping involved. But, if you've got the right equipment, it is really so quick and easy to make.
I have tried using a food processor and even my thermomix to make coleslaw before, but I can never get the texture quite right. I prefer to use a mandolin or mandoline, depending on your preferred spelling.
I have tried using my mandoline for slicing up the cabbage, but it always seems to come out a bit too thick or too thin for my liking. Instead, I prefer to thinly slice the cabbage with a knife.
Then simply sit your mandoline on top of the bowl and shred the rest of the ingredients through it.
Everything is done within a matter of minutes!
I like to add fresh mint and parsley to my homemade coleslaw. I always have some on hand thanks to my Urbipod indoor herb garden, and these fresh herbs just add a fresh, homestyle taste to the finished product.
You can easily omit them if you don't have any on hand, but the mint, especially, gives a nice, fresh summer taste to the salad.
I usually just chop the herbs up with a knife but you could use herb scissors if you prefer.
Then you just want to mix all of the vegetables and herbs together until well combined. Hint – the best and easiest way to do this is with your (clean) hands.
Then you simply need to add the two dressings. How much? Totally up to you! Some people like their coleslaw swimming in dressing, others prefer a lightly dressed salad.
I'm probably somewhere in between the two – I want to taste the dressing so I use a generous amount of each dressing, but I still want to preserve the crunch of the vegetables in the salad.
Start with a couple of tablespoons of each dressing, mix them through, taste, and then add more dressing if required.
Then simply stir it all through until you've got the desired taste and texture you are looking for.
You can use coleslaw as an accompaniment to so many things. My family loves it under a sausage in bread or with any kind of BBQ, but my favourite way to eat coleslaw is with a baked potato with butter, sourcream, cheese and bacon – try it, it's divine!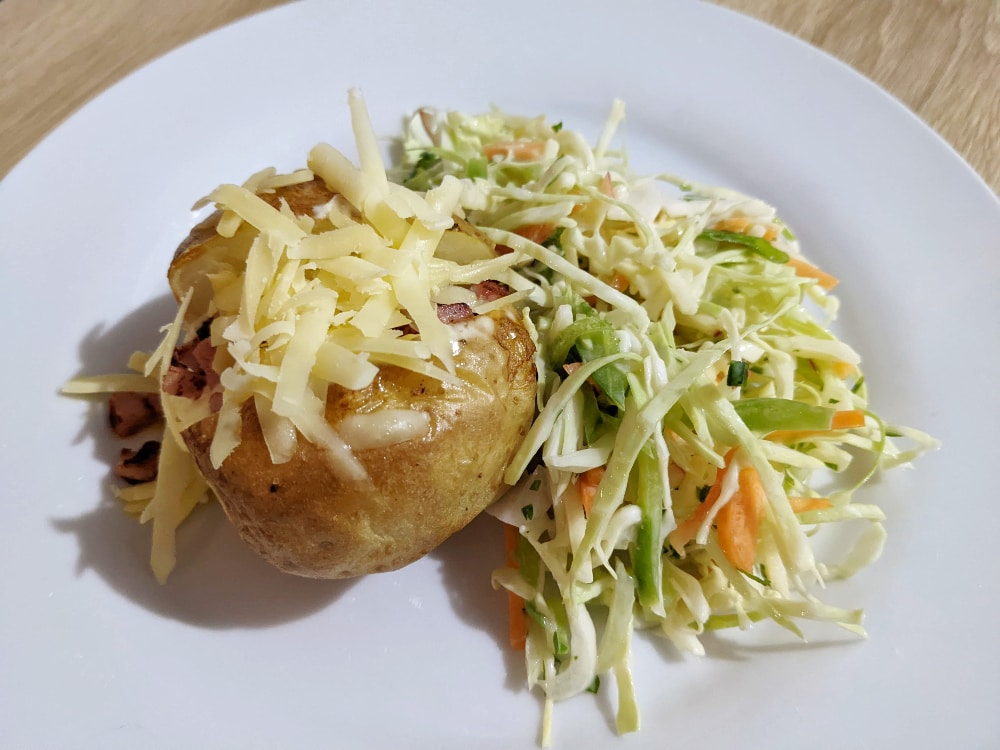 Seriously Good Homemade Coleslaw Recipe
Print Recipe
Seriously Good Homemade Coleslaw
Ingredients
Cabbage

¼ - ½ depending how large - green, savoy or purple or a mixture

2

carrots

½

green capsicum

½

red capsicum

½

brown onion

1-2

spring onions

1-2

sticks celery

1

apple

- red or green (I usually use red)

Fresh herbs

- mint and parsley

Zoosh mayonnaise

- or your preferred mayonnaise

Praise coleslaw dressing
Instructions
Shred the cabbage by cutting into fine strips with a knife and place in serving bowl.

Sit your mandoline on top of the bowl and shred the remaining vegetable (and apple) ingredients straight into the bowl.

(If you don't have a mandoline, use a grater and/or a knife to dice the ingredients into small pieces).

Mix with clean hands or salad servers until well combined.

Add 1-2 tablespoons each of the mayonnaise and the coleslaw dressing.

Mix thoroughly and taste.

Add more dressing if required.
Notes
As mentioned above, you don't need all of these ingredients to make coleslaw, just use as many as you have available.
Coleslaw is a staple in our house and, especially during the summer months, we would eat this weekly or more often.
It tastes so good with so many things and is a must have dish for any BBQ.
Make your coleslaw this way and take it along to your next event – I guarantee they'll ask you to bring the coleslaw everytime once they've tasted this famous, seriously good, coleslaw!