In our house we call these chicken dumplings, but they're also known as gyozas and potstickers in different parts of the world so I didn't really know what to call this recipe!
Let me start by saying that this is an Asian inspired recipe. A friend of mine, originally from China, would regularly make these for me for lunch, but I think it's important to say that I do not have an Asian background in any way, shape or form, and this is my interpretation of the dumplings my friend would make for me (she never gave me the recipe). So, it may not be as authentic or traditional as some other recipes out there.
If I'm doing something wrong, I apologise, this is simply the way that I like to make these 'dumplings' and my family and I can't get enough of them!
Here are the ingredients that I use to make these little bundles of joy. No, I don't make my own wrappers, I buy the ones pictured here – I can usually only find them at Woolworths. If I'm shopping at Coles I will often buy square, yellow wonton wrappers instead and they work fine too, they're just more of an odd shape to wrap.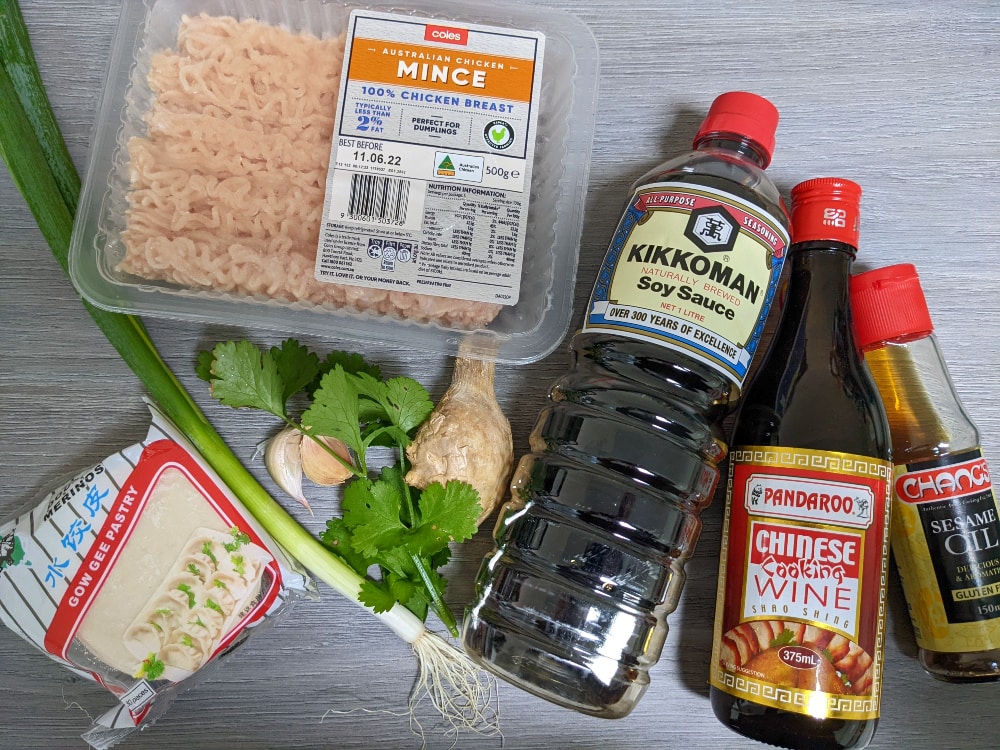 Begin by preparing (peeling/slicing) the spring onions, ginger and garlic.
Then add these, along with the coriander (if using – leave it out if you don't like coriander) to a food processor or Thermomix.
Blitz together or pulse a few times until finely chopped up.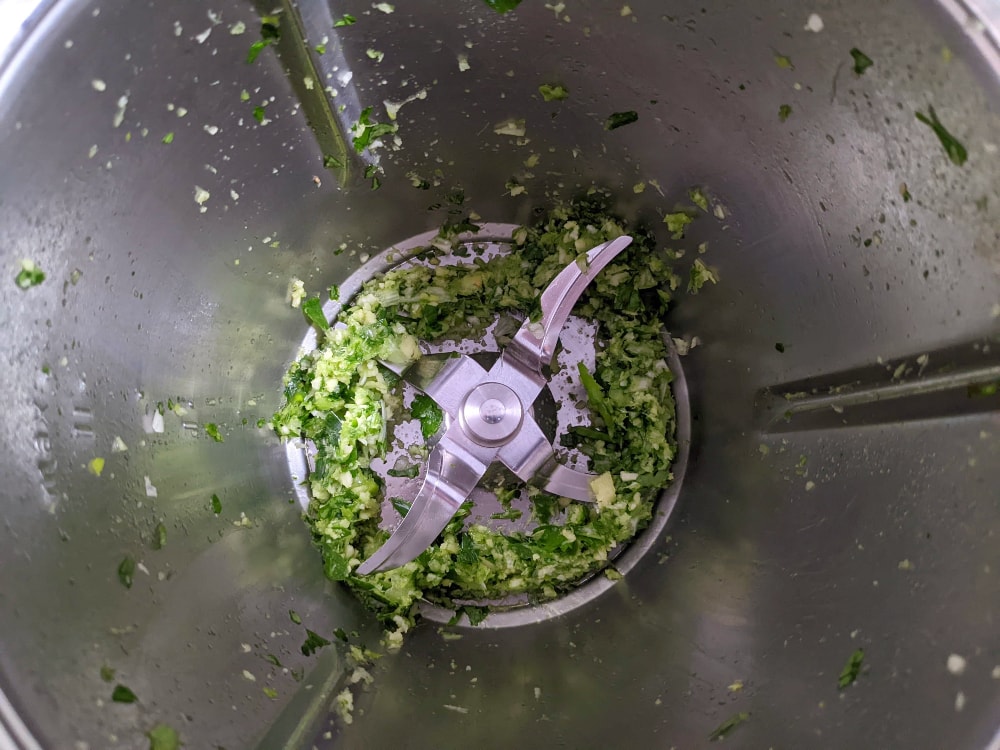 Add the chicken mince and other ingredients (except for the wrappers) and blitz to combine.
Spread your dumpling wrappers out on a clean, flat surface, like a baking mat or large cutting board.
Then distribute your dumpling filling mixture evenly between the wrappers – do not be tempted to overfill, if you have too much mixture to fit into the wrappers (you probably will) you can either, use a few wrappers from a second packet (if you have them) or you can turn the leftover mixture into mini meatballs and fry them up nude!
Or you can freeze the mixture in small spoonful amounts and wrap them up next time you are making more dumplings.
Then the fun begins! This is where my non-asian heritage shines through – I am not good at wrapping up dumplings! But they still always taste great!
You can wet the tip of your finger and run it along one side of each wrapper to help it to stick when you fold it over. And you can attempt to put little pleats in them like I do. If you want them to look better than mine, you might like to watch a video on how to wrap dumplings!
You can steam your dumplings if you prefer, but I like to do a combination of steaming and lightly pan frying which gives them a slightly crispy finish.
To do this, add about two tablespoons of olive oil (or your preferred oil) to a large pan that has a lid, over high heat.
Spread the oil over the base of the pan, then add your dumplings (you probably won't fit them all in in one batch).
Then add half a cup of water.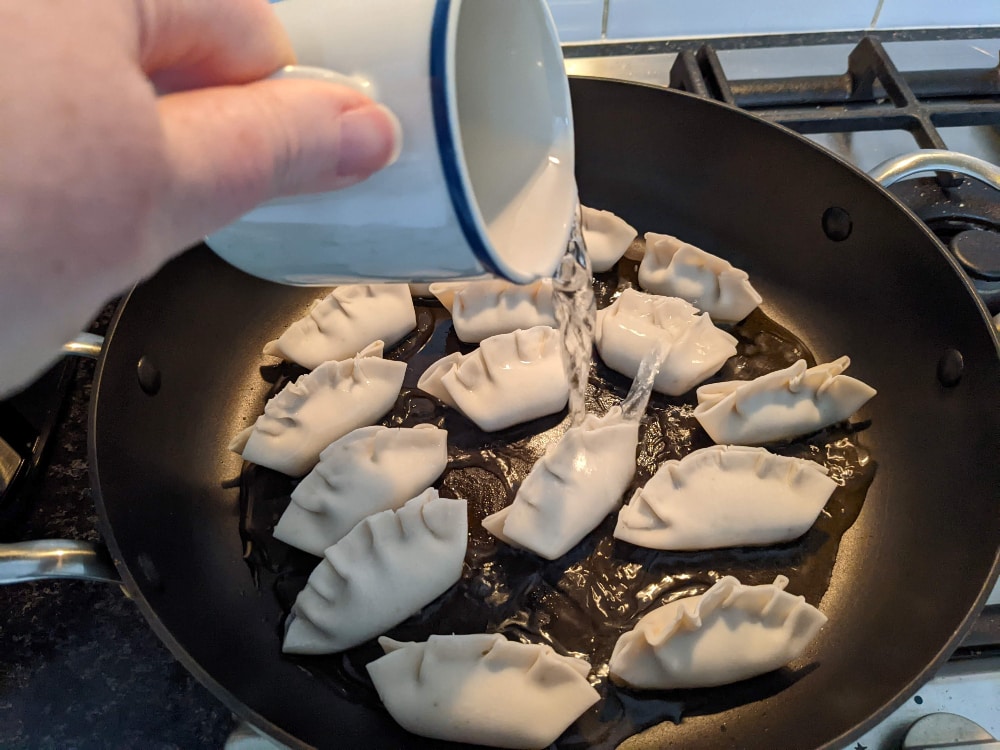 Then put the lid on and leave them to cook for 8 minutes.
When the 8 minutes are up, remove the lid. Most of the water should have evaporated. Flip the dumplings to give them a light, crispy finish on both sides.
We like to devour these with a mixture of soy sauce and sweet chili sauce, but you can use whatever dipping sauce you like best.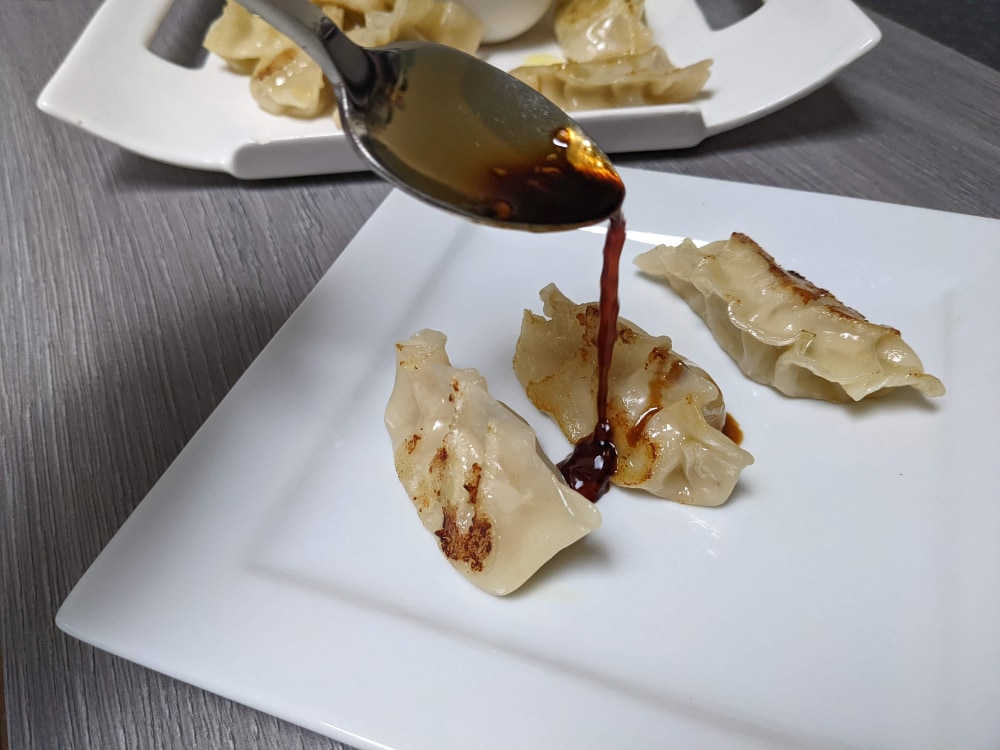 Chicken Gyoza / Dumplings / Potstickers Recipe
Print Recipe
Homemade Chicken Gyoza Dumplings or Potstickers
Ingredients
2

cloves

garlic

, peeled

10-20

g

fresh ginger

(peeled and sliced into coins)

Few sprigs of fresh coriander

(if using - omit if you don't like coriander)

1-2

spring onions

, trimmed

500

g

chicken mince

2

Tablespoons

soy sauce

1

Tablespoon

sesame oil

1

Tablespoon

Chinese cooking wine

1

Packet of

dumpling wrappers

- the ones I use are called 'Gow Gee Pastry' but you can also use gyoza wrappers or wonton wrappers if that is all you can find.
Instructions
Use a food processor, blender or Thermomix to blitz together the fresh garlic, ginger, spring onion and coriander (if using).

Once finely chopped or minced together, add the chicken mince, soy sauce, sesame oil and Chinese cooking wine.

Lay out the dumpling wrappers on a large, clean, flat surface.

Add about a teaspoon of filling to each wrapper - do not overfill or it will be hard to wrap your dumplings.

Save left over filling mixture and use as meatballs (with no wrapper) or freeze until next time you want to make dumplings.

Wrap dumplings by sealing the edges and pleating together.

Over high heat, add 2 Tablespoons of olive oil (or preferred oil for frying) to cover the base of a large, flat pan that has a lid.

Arrange dumplings over the base of the pan (it is unlikely that you will fit your whole batch in the pan in one go, so cook in batches).

Add ½ cup water to the pan and put the lid on.

Remove the lid and flip each dumpling to complete the pan searing process.

Serve with your favourite dipping sauce - we like a mixture of soy sauce and sweet chilli sauce.
I was nervous the first time I made these dumplings as I'd never made my own dumplings at home before. I was inspired by the flavours I found in my Chinese friend's homemade dumplings and, after a few attempts, I think I have the flavour just right now.
I have experimented with adding some cabbage and even some fresh chillies before, but this recipe is my favourite version of the recipe and so is the one that I make every couple of weeks now.
I actually prefer these to take-away versions of the same thing and they're so easy to make, it makes sense to make them myself!
Whatever you like to call them at your house, I hope you like my version of these homemade chicken gyozas, dumplings or potstickers. Give them a go, I think you'll love the flavour!