Perfect for snacking, lunching or even for dinner, nothing beats a sausage roll. And, when they're homemade, you know exactly what's in them so you can indulge in them even more.
This homemade sausage roll recipe is so simple, yet effective, you'll want to make them all the time. Using everyday ingredients like beef mince and store bought puff pastry, sausage rolls don't get much easier to make than this!
Here's a picture of the ingredients I like to use in these tasty beef sausage rolls but, as with all home cooking, if there's an ingredient you don't like or can't have for allergy reasons, simply leave it out or substitute with something you prefer – that's the beauty of cooking all your food from scratch – you get to decide what goes into it!
You could also incorporate some vegetables like carrot and celery into your beef mince mixture if you like, or use real onion rather than onion powder, I just happened to be cooking this batch for some fairly fussy eaters who don't like to find any coloured bits in their sausage rolls – feel free to play around with the recipe as much as you like!
Begin by laying out four sheets of puff pastry on your benchtop to give them time to defrost while you prepare the sausage roll filling.
You're going to need some sort of food processor to help make the sausage roll filling. I'm lucky enough to have a Thermomix which makes tasks like this easy, but you can use any type of food processor that can combine and grind your food.
Begin with the cubes of parmesan cheese, bread, garlic, and herbs (I use parsley but if you don't have any, some other type of herb will do!
I've always got plenty of fresh herbs on hand as I am lucky enough to have an Urbipod herb garden – it's the best!). Put these ingredients into your Thermomix or food processor and process until it all looks like crumbs.
Then, simply add the rest of the ingredients (apart from the puff pastry) and process until combined.
Cut each piece of pastry in half and then divide the beef mixture into 8 and distribute a portion onto each piece of pastry.
Then simply roll each portion up and cut into desired lengths – I usually cut mine in half and then in halves again, giving me 4 sausage rolls for each length of pastry.
But, you could just cut them in half and have large sausage rolls, perfect for dinner, or cut them into eighths and have mini or bite-sized cocktail sausage rolls for a party.
Once cut to your desired size, place them onto a baking tray lined with baking paper.
Then pop them into your preheated oven for 25-30 minutes or until golden brown.
Enjoy them with some tomato sauce for dipping, of course!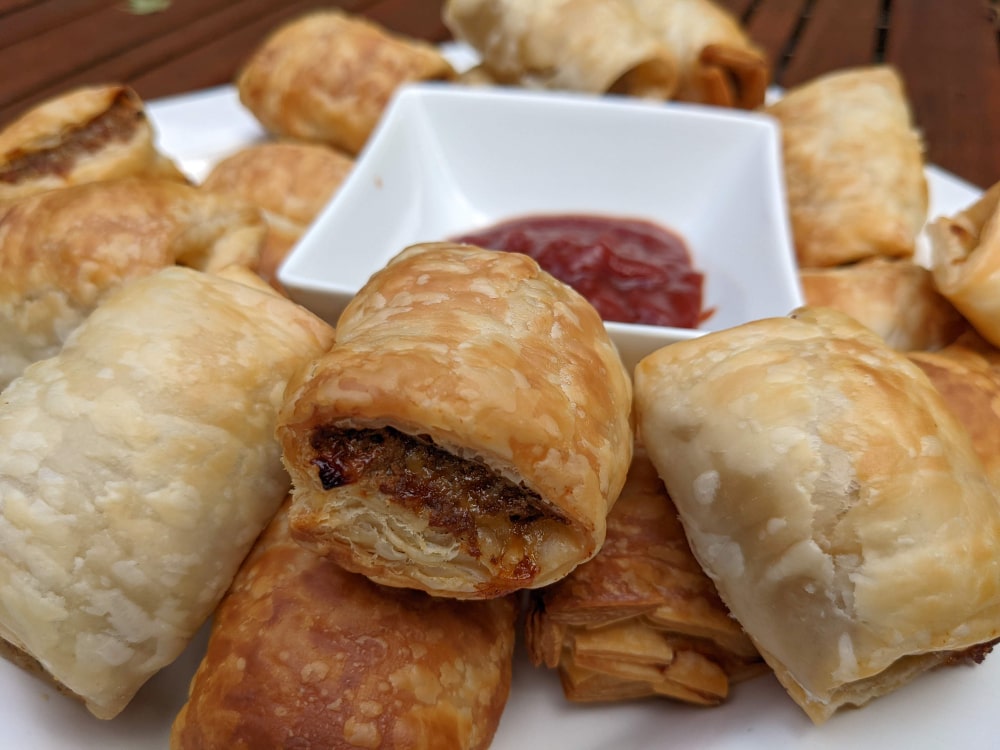 Homemade Sausage Rolls Recipe
Print Recipe
Homemade Sausage Rolls With Beef Mince And Puff Pastry Recipe
Ingredients
4 sheets

puff pastry

80g

parmesan cheese

cut into small cubes

2 slices

of bread

(stale, day-old or crusts are fine - it's a good way to use up leftover bread)

Few sprigs of parsley

(or other fresh herbs)

3

cloves garlic

500g

beef mince

1 teaspoon

onion powder

1 Tablespoon

Worcestershire sauce

1 Tablespoon

tomato paste

1 Tablespoon

Tamari

(or Soy Sauce if preferred)

1 teaspoon

beef stock powder

2

eggs

½ teaspoon

cumin

(omit if you don't like cumin - half my family love cumin in their sausage rolls and the other half do not - you'll need to decide if you're a cumin loving family or not!)
Instructions
Preheat oven to 200℃ / 390℉

Line 2 baking trays with baking paper or silicone liners.

Separate sheets of frozen puff pastry and leave them out on the benchtop to defrost.

Combine parmesan cheese, bread (torn into small pieces), garlic and parsley in a food processor and process until the mixture looks like fine breadcrumbs.

Add beef mince and the rest of the ingredients (except puff pastry) to the food processor and blitz to combine. Your mixture should now be smooth and even like sausage mince.

Slice each piece of pastry in half lengthways.

Split the beef mixture evenly amongst the 8 pieces of pastry and form the meat mixture into a long line down the centre of the pastry.

Roll each to enclose the filling and then cut each roll into the desired length of your sausage rolls.

Place the sausage rolls seam side down onto your lined baking trays, leaving a few centimetres between them for the pastry to puff.

Bake for 25-30 minutes or until golden brown.

Enjoy - my family will always devour these with tomato sauce!
While they might seem a bit 'fiddly', homemade sausage rolls are actually very easy to make and they taste so much nicer than anything you can buy at the shops!
Impress your friends and family with a batch of homemade sausage rolls. By using the ready made puff pastry, the hard part is done for you, all you need to do is to mix up your beef mince mixture and your Thermomix or other food processor can have that done in no time!
Great for entertaining, homemade sausage rolls make the perfect party food as they are the ultimate finger food – just make sure you've got some tomato sauce for your guests to dip them into!