There are many words to describe these amazing mini banana choc chip muffins – easy, healthy, moist and delicious spring to mind!
These mini muffins are a staple in our house. Perfect for a quick morning or afternoon tea, they make you look like a super cook if you whip up a batch for unexpected visitors!
Firstly, they're so quick and easy to make and you probably have all the ingredients you need. You only need one bowl to mix them up in (so there's hardly any dishes to wash) and a mini muffin pan.
If you don't have a mini muffin pan, you can make them as regular sized muffins, but you will need to increase the cooking time.
Secondly, they're healthy! Well, as far as muffins go, anyway. They're healthy but still use everyday ingredients – you won't need to source any special types of flour, these muffins only need a combination of white self raising flour and wholemeal self raising flour (also known as self rising flour in other parts of the world).
The recipe uses sunflower oil – no butter. If you'd prefer to make them even healthier, you could use coconut oil or your preferred healthy oil in place of the sunflower oil.
No added sugar! There is no need to add sugar to the recipe – the bananas and honey add the sweetness as well as the chocolate chips. If you prefer to use sugar free chocolate chips you could do that too.
Egg free and dairy free! This recipe is naturally egg free and can be made dairy free if necessary too. I like to use almond and coconut milk for the muffins as it adds nice creaminess to the taste and texture.
You can use ordinary (dairy) milk if you prefer or if it's the only milk you have in the house. To make the muffins dairy free simply use almond and/or coconut milk (or your preferred milk alternative) and remember to use dairy free chocolate chips as well.
Now that we've covered why these mini muffins are so easy and healthy, let's learn how to make them!
Here's the ingredients I like to use when making these muffins – you can use substitutes wherever your allergies or food preferences require (it's a very forgiving recipe).
Peel your bananas and place them in a large mixing bowl, then mash them with a fork.
Add the oil, cinnamon and honey.
Then add the milk and combine.
Next add both types of self raising flour (white and wholemeal) – I don't ever bother to sift the flour, just dump it in the bowl and mix it through. You could use all wholemeal or all white flour if you prefer, I just find that this mixture works well.
Then add your chocolate chips and mix them through.
Distribute the muffin mixture evenly in your muffin pan – I like to use a silicone mini muffin pan that I got years ago from The Chef's Toolbox. I don't think that company exists anymore, but this muffin pan looks great if you don't have one of your own.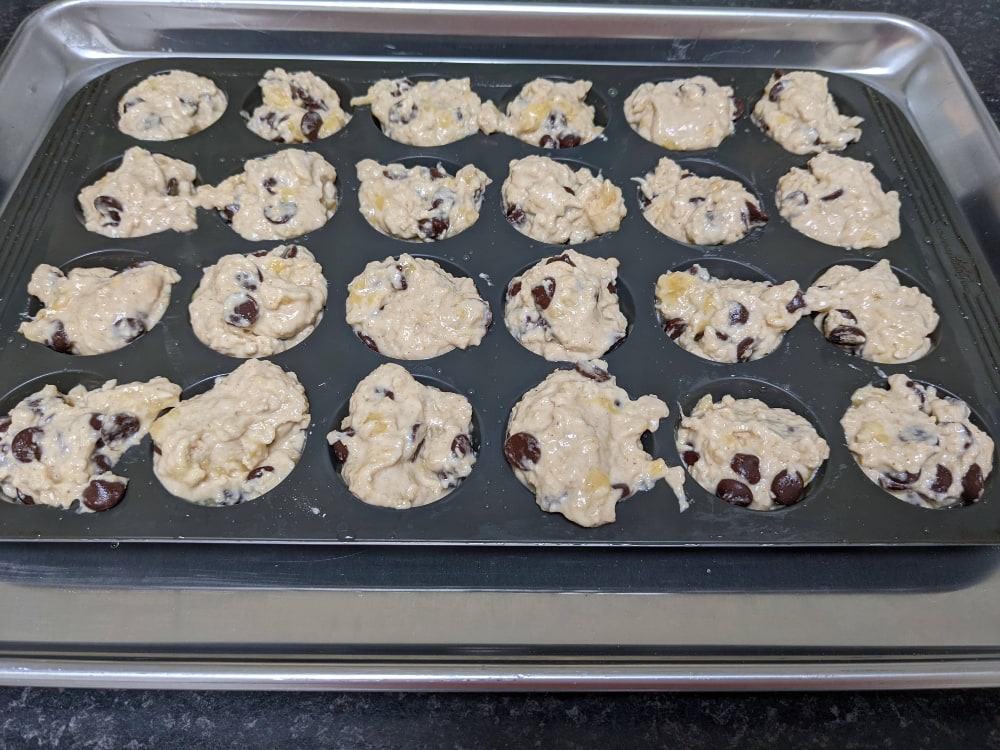 Pop them into your preheated oven for 16-20 minutes or until cooked.
Enjoy! These are especially good when they are still a bit warm from the oven – the chocolate stays nice and gooey and the muffins are warm, moist and delicious!
Mini Banana Choc Chip Muffins Recipe
Print Recipe
Mini Banana Choc Chip Muffins
Ingredients
2

ripe bananas

1

teaspoon

cinnamon

2

Tablespoons

honey

1 ½

Tablespoons

sunflower oil

(or your preferred oil)

¾

cup

milk

(I prefer almond and coconut milk but you can use any type of milk you have)

1

cup

wholemeal self raising flour

½

cup

white self raising flour

½

cup

dark (or milk) chocolate chips

(depending on how chocolatey you would like them to be)
Instructions
Mash the bananas in a large mixing bowl.

Add cinnamon, honey, sunflower oil and milk and combine.

Add flours and stir through.

Add chocolate chips and mix until evenly distributed.

Spoon mixture into a mini (or regular) muffin pan.

Bake for 16-20 minutes or until lightly golden brown.
These mini banana choc chip muffins are so quick and easy to make and are sure to be a favourite amongst your friends and family.
When entertaining I usually make a batch of these muffins and the Raspberry & White Chocolate Muffins, now everyone knows me as the homemade muffin queen!
I am regularly asked to bring batches of these muffins to any social gathering we attend. They're so simple to make I'm happy to fulfill my friend's muffin dreams!