No, you don't need a special packet mix to make your own chocolate mousse at home. In fact traditional chocolate mousse can be quickly and easily whipped up with just a few simple ingredients you probably already have in your house.
All you need is eggs, cream, chocolate and sweetener – I like to use maple syrup, but you could use a fine grain sugar like caster sugar or honey if you prefer.
By using maple syrup as the sweetener, you could easily turn this recipe into a sugar free chocolate mousse recipe if you used sugar free chocolate. I'm not a fan of the taste of artificial sweeteners (even stevia makes me shudder), so I'm quite happy to keep using regular chocolate, but if you were diabetic or needed to reduce sugar for other reasons, this recipe would be easy to convert to sugar free.
It still has all that cream in it though, so it would still not be considered a 'healthy' dessert, but it's good to have a little treat from time to time!
Most traditional chocolate mousse recipes will have you separating the eggs and then beating those egg whites until they are really stiff and peaky. But, this recipe is so quick and easy, you don't even have to separate the eggs, you just beat them up all together!
Begin by melting the chocolate – I just break it up into pieces in a microwave safe bowl and then put it in the microwave on high for 60 seconds.
Always give it a stir after this time because, even though it might not have changed shape, it has probably started to melt. Give it another few seconds if needed, stirring as you go. If you prefer to melt your chocolate with a double boiler or with some other method, that's fine too.
Leave the chocolate aside to cool slightly while you beat the eggs. I highly recommend using a stand mixer for this part as you will need to keep whipping for 5-6 minutes.
As I said before, no need to separate, just add your eggs to your mixer bowl.
And set your mixer going.
Leave your mixer to whip those eggs for 5-6 minutes and, in the meantime, use a separate bowl and hand mixer to whip the cream until peaks form.
Meanwhile your eggs should be starting to thicken. Once 5-6 minutes of beating is up, leave the mixer running and add your maple syrup (or sugar or honey), and continue beating for another minute or so.
So, now you should be left with the three components ready to make your chocolate mousse – the melted chocolate, the beaten eggs and maple syrup and the whipped cream.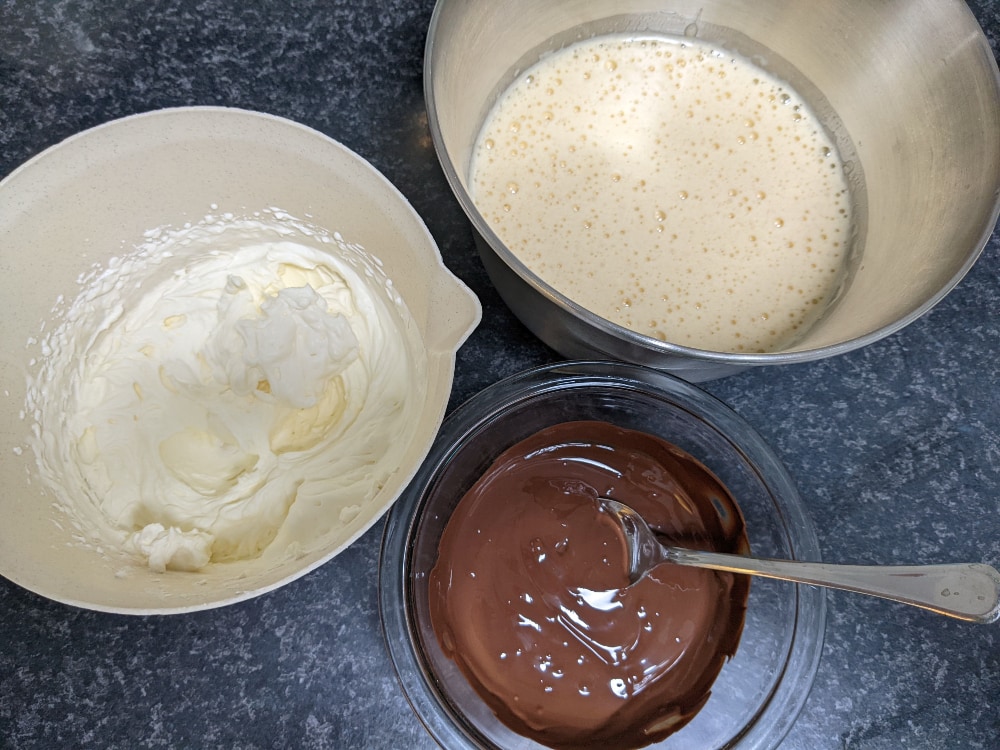 Pour the melted chocolate into the egg mixture and gently fold it through until it is roughly combined.
Then add the whipped cream to the mixture and, as gently as possible, fold it through until the mousse is combined.
Divide the mousse into ramekins – I easily filled these 4 ramekins and had about half the mixture left over (but I only had 4 ramekins).
You can see in the photo that it almost looks like the mousse has little chocolate chips in it. When the warm chocolate comes into contact with the cooler eggs and cream, some of the chocolate sets quickly into small little flakes.
The first time I made this recipe many years ago I thought I had done something wrong, but the family assured me that they loved it this way – it's like a chocolate mousse with tiny little chocolate chips in it – it's really good!
Put the ramekins in the fridge for a few hours to set and then enjoy!
Quick & Easy Chocolate Mousse From Scratch Recipe
Print Recipe
Quick & Easy Chocolate Mousse From Scratch
Ingredients
3

eggs

200g

chocolate

(use any chocolate you like - dark, milk or sugar free - block or chocolate chips)

¼ cup

maple syrup

(or caster sugar/honey or preferred sweetener)

300ml

cream
Instructions
Melt the chocolate - I use the microwave but you can use whichever method you prefer.

Set chocolate aside to cool slightly.

Add eggs to the bowl of a benchtop/stand mixer and beat for about 6 minutes.

While this is beating add the cream to a separate bowl and use a different beater to whip the cream until peaks form.

Return to the stand mixer and the beaten eggs after 6 minutes or so and, with the mixer still running, add the maple syrup (or preferred sweetener) and continue to beat for another minute or so.

Add the chocolate to the egg mixture and gently fold through by hand until the mixture is roughly combined.

Then add the whipped cream and very carefully fold it through, trying not to over mix.

Spoon the mixture into ramekins or small bowls.

Place mousse in the fridge to set for several hours or overnight.
Traditional chocolate mousse sounds scary to make at home but this recipe makes it quick and easy by removing the need to separate the eggs.
You will need to have at least one type of electric mixer to make this chocolate mousse from scratch – having a stand mixer to beat the eggs and a separate hand mixer to whip the cream makes it a very quick and easy process, even if there are a few dishes to wash at the end.
This is the go-to chocolate mousse recipe in our house and it gets wheeled out for many special occasions – it usually makes an appearance at a Christmas party or two as well as by request for some members of the family's birthdays.
And sometimes we indulge just because I happen to have a carton of cream in the fridge that needs using up – and it's a delicious way to use up that cream! Give it a try, classic chocolate mousse made from scratch doesn't need to be in the 'too hard' basket anymore!