This old fashioned hummingbird cake is incredibly easy to make. In fact, I've taken an old fashioned recipe and made it easier by turning it into a one-bowl cake! I love making cakes using only one mixing bowl – it's simple, it's easy and there's less washing up!
If you've never tried a hummingbird cake before, you're in for a treat. It's a lovely, tropical tasting combination of banana, pineapple and coconut – sounds good enough to eat! Then, it gets topped off with a delicious, smooth and creamy, cream cheese frosting – it's almost like eating a cake topped with a cheesecake – it's divine!
Enough with the descriptions, let's get on with the creation of this simple to prepare, old fashioned style hummingbird cake.
We begin with one large mixing bowl and a couple of bananas.
Add the bananas to the bowl and give them a good mashing with a fork.
Add the sunflower oil and give it a stir.
Next add a tin of drained, crushed pineapple and mix it through.
Then it's time to add the eggs, one at a time. Using the one bowl method I like to crack each egg directly into the bowl and then give it a mix with a fork on top of the mixture (to make it "lightly beaten") before mixing it through the rest of the mixture.
Next, add the brown sugar, and stir it through.
Add the desiccated coconut.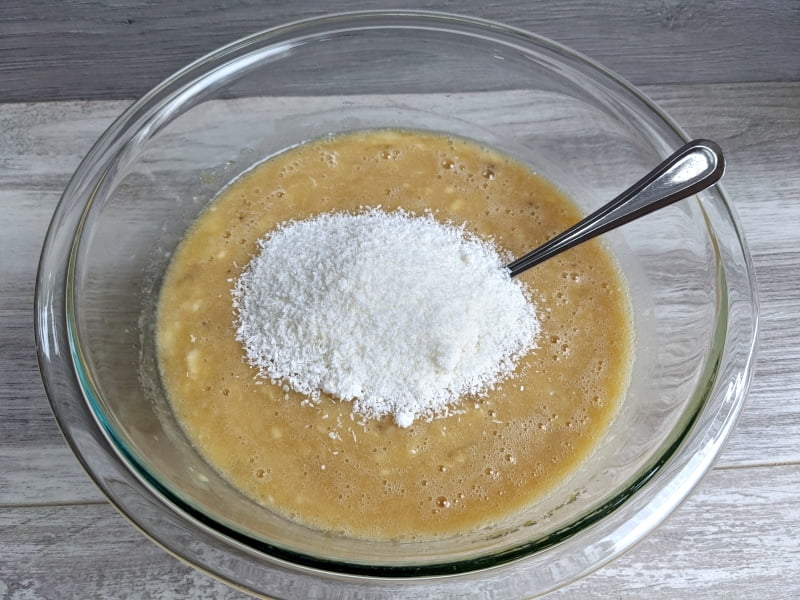 Then add the self raising flour and the bicarb soda.
And fold the flour through until thoroughly combined.
Pour the mixture into a prepared (greased and lined) pan, or cheat and use a silicone cake mold like me.
And then into the oven it goes.
45 minutes later, you'll have a delicious hummingbird cake, and your house will smell amazing!
Let it cool in the pan for 10 minutes or so, then transfer to a wire cooling rack to cool completely.
While it cools, make the cream cheese frosting. I like to use my Nutribullet blender for this as it's quick and easy to clean, but you could also use any other type of blender or even hand beaters.
It's as simple as putting the cream cheese (chopped into smallish pieces) and the icing sugar into the cup of the blender and then adding a squeeze of lemon juice.
Then just give it a quick blitz in the blender and you've got smooth and creamy cream cheese frosting ready to go.
Once your cake is completely cool, smear on the cream cheese frosting.
Sprinkle on some shredded coconut and serve!
Old Fashioned Hummingbird Cake Recipe
Print Recipe
Simple Old Fashioned Hummingbird Cake Recipe
Ingredients
2

large bananas

¾

cup

sunflower oil

450

g

can of crushed pineapple

drained

2

eggs

1

cup

brown sugar

½

cup

desiccated coconut

1

teaspoon

cinnamon

2

cups

self-raising flour

½

teaspoon

bicarb soda

baking soda
Instructions
Preheat oven to 180℃ or 350℉

Grease and line a round, 22cm cake pan (or use silicone)

Use one large mixing bowl to mash the bananas into.

Then add each ingredient in the order listed, mixing well after each addition.

Pour into prepared cake pan.

Bake for 45-50 minutes.

Leave to cool in pan for 10 minutes before tipping out onto a cooling rack to cool completely.

While cooling make the cream cheese frosting.

Smear cream cheese frosting over cold cake and sprinkle with shredded coconut (if desired).
Recipe for Cream Cheese Frosting for Hummingbird Cake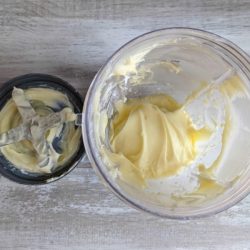 Print Recipe
Recipe for Cream Cheese Frosting for Hummingbird Cake
Ingredients
125

g

cream cheese

1

cup

icing sugar

1-2

tablespoons

lemon juice
Instructions
Combine all ingredients in a personal/smoothie blender (or use other type of blender or beaters).

Blitz for a few seconds until combined and smooth and creamy - add more lemon juice or icing sugar if needed depending on the consistency.
Such a simple recipe – only one bowl needed! One bowl equals less washing up which is always a win in my book.
Hummingbird cake makes a lovely change when you're sick of always just having chocolate cake – you could even think of it as being somewhat healthy – you're eating bananas and pineapple afterall!
I hope you enjoy my simple homemade old fashioned hummingbird cake recipe – let me know if you've tried it.