Slow cooked beef massaman is a firm favourite in our house. You can make it more quickly but it's just as easy (or maybe even easier) to use the slow cooker or crock pot and it tastes so much better!
The meat becomes so soft and tender it just falls apart and the delicious aroma that fills the house while it cooks will have everyone salivating and hungry for their dinner.
In our house we have a nifty little machine called the Tefal 45 in 1. This is like a slow cooker on steroids! It has many different functions however we mainly use it for its slow cooking ability. The 45-in-1 "slow cooks" a beef curry such as this one in just 2 hours! So it's fast slow cooking!
But, before I had this nifty device, I used my regular crock pot to make this meal all the time and it always gave great results too – it just needed to cook a little longer. So, don't panic if you don't have a 45-in-1, just use your slow cooker and cook for 4-6 hours.
If you've read our story you'll know that the main reason for this website is so my family learns how to cook all of our regularly eaten meals, so bear with me as I demonstrate how we make this delicious thai beef curry in our 45-in-1 machine.
If you'd rather just skip to the recipe you'll find out all you need to know to make it in your crock pot or other slow cooking machine. Or, if you've got a 45 in 1 and aren't sure how to use it, this might help you out!
Easy Slow Cooker Massaman Curry
Begin by gathering the ingredients you'll need. We use Ayam Thai Massaman Curry Paste. It's never let me down and always gives delicious results.
If you can't get the Ayam brand you could try another brand of massaman curry paste or you could try making your own with this recipe – but obviously that would involve a lot more time and ingredients!
I prefer to use rump steak which I cut to size myself. You could purchase diced beef which would make this recipe even quicker and easier, but I always find the end result turns out better with rump steak.
Firstly trim all the fat off the rump steak and cut the meat into even(ish) chunks – about 1-2 inch cubes.
Dice up your potatoes (into a similar size as the meat) and slice up your onion.
Switch on the 45-in-1 and push the "menu" button a few times until the little light shines next to the meat picture.
Then push the right arrow a few times until the arrow is next to "brown".
Then push the start button.
Add some olive oil and half a jar of the curry paste – leave the rest of the curry paste in the jar and store it in the fridge to use next time.
Cook while stirring occasionally for a minute or two until it is quite aromatic.
After a couple of minutes, add the diced beef.
Stir to cover the meat in the curry paste and continue cooking to allow the beef to brown a little – stir occasionally.
After a few more minutes, add the sliced onion and diced potatoes to the bowl.
Stir to combine and allow it to keep browning.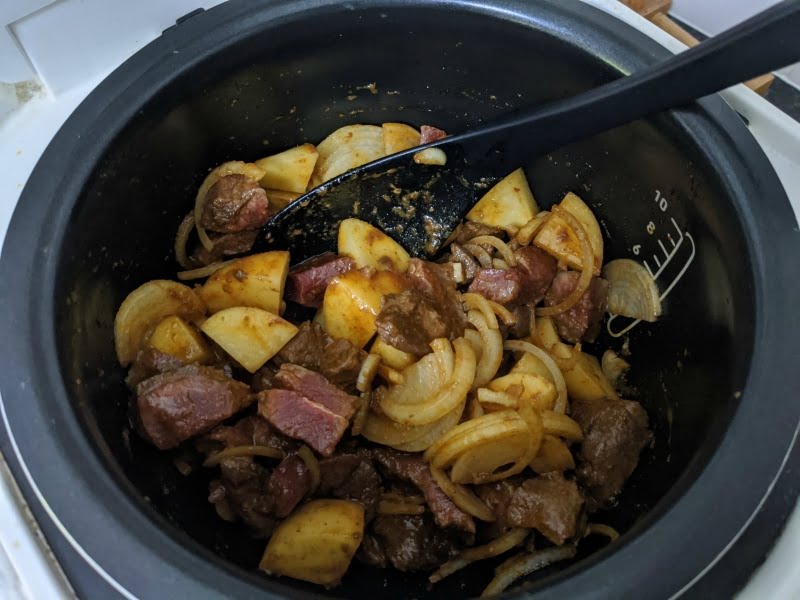 The 45 in 1 will be counting down from 20 minutes throughout this process. Once it reaches down to about 1 minute left, add the whole tin of coconut milk and stir to combine.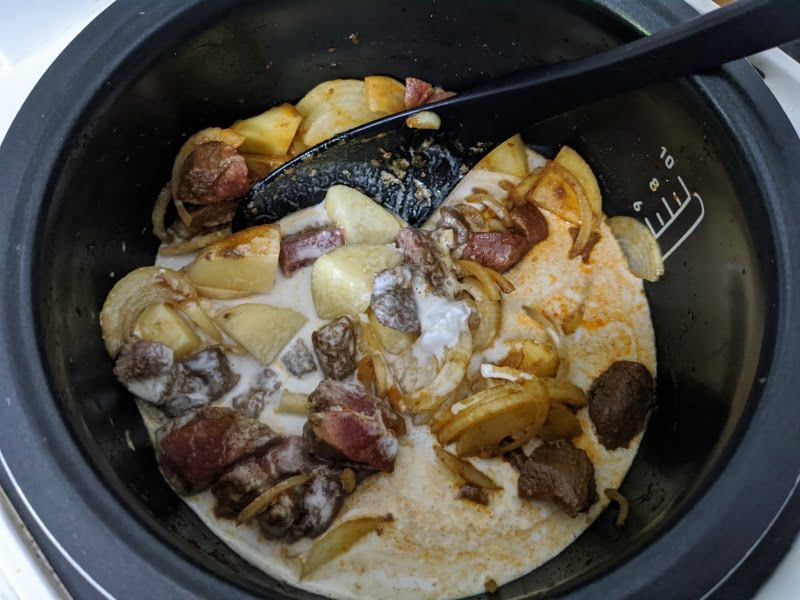 Once the 20 minutes is up, the machine will beep to signal it has finished.
Push cancel to finish the browning process and get ready to move into slow cooking.
Now push "menu" a few times again to move back to the meat icon.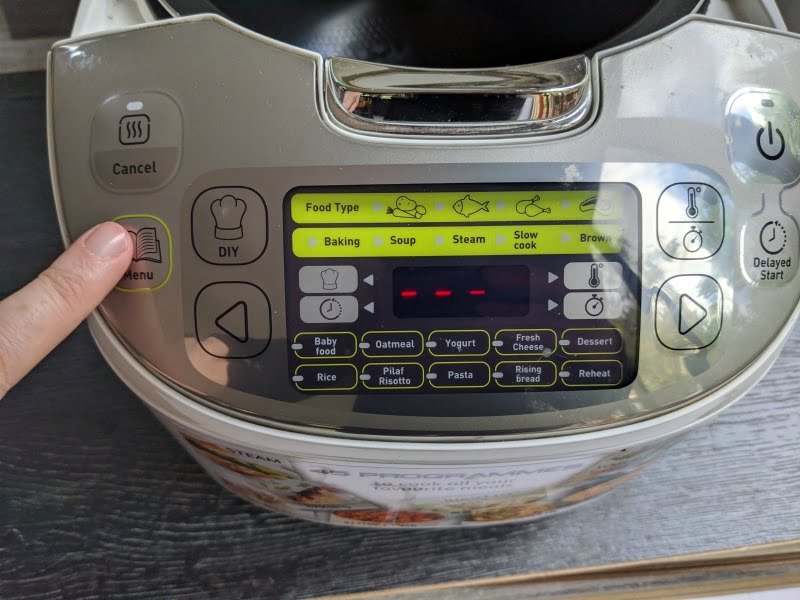 Then push the right arrow a couple of times to point to "slow cook".
Close the lid and push the start button and your work here is done!
The machine will cook for 2 hours.
It will beep at the end of that time to indicate it has finished but it will kick straight into "keep warm" mode after that so it doesn't matter if your rice and veggies aren't quite ready when it has finished.
Serve with rice and stir fried vegetables.
Beef Massaman Curry Recipe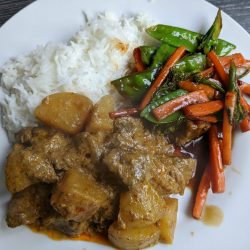 Print Recipe
Slow Cooker Beef Massaman
Ingredients
1

Tablespoon

Olive Oil

½

jar Massaman Curry Paste

make your own

500

g

Rump Steak

fat removed and cut into 1-2inch cubes

1

Brown Onion

sliced

3-4

Potatoes

no need to peel - cubed to similar size as meat

1 400

ml

tin of Coconut Milk
Instructions
If your slow cooker has a browning function do the following steps directly in your slow cooker, if not, use a large frying pan.

Heat oil in slow cooker or pan.

Add massaman curry paste.

Cook for about 2 minutes, stirring occasionally.

Add meat, stir to cover meat in the paste, continue cooking to allow meat to brown.

Once meat is browned (not cooked) add onions and potatoes - stir and cook for a minute or two.

At this point if using frying pan to brown, transfer to your slow cooker.

Add coconut milk and stir to combine.

Put lid on and slow cook for 4-6 hours depending on the type of machine being used - follow manufacturer's recommendation for red meat. The 45-in-1 only needs 2 hours to slow cook red meat - this is preset into the machine, a regular crock pot or slow cooker will likely require 4- 6 hours.

Serve with rice and your choice of vegetables.
We hope you enjoy your slow cooked beef massaman – we think it's one of the tastiest ways to enjoy meat and potatoes!