This is honestly one of the quickest and tastiest ways to cook and eat vegetables. We often have this dish as an accompaniment or side dish to beef massaman and other meals served with rice. But, it's so tasty and delicious we'll sometimes just have this for a quick dinner or lunch, especially if we just feel like a light meal.
It's a versatile recipe – you can add chicken strips (cook the chicken in the wok first before adding the veggies) to make a quick chicken and veggie stir fry, or you can leave out the noodles and just enjoy the stir fried vegetables (we sometimes do this if the meal already has enough carbs and we don't want to be overloaded).
To begin the process you'll want to get all of your veggies prepped, ready and chopped. You can really use any vegetables you like in this dish. I find it's a good way to clean out the veggie drawer in the bottom of the fridge – cabbage, carrots, broccoli, cauliflower, zucchini, snow peas are all commonly used in our house but you can use whatever you have and like (except maybe tomato, lettuce, cucumber, pumpkin and potato which don't really lend themselves to stir frying).
For today's example I've roughly chopped up some purple cabbage, some celery (hiding under the cabbage in the photo), some broccolini or baby broccoli and I've topped and tailed some snow peas.
I also often add in some frozen mixed vegetables (usually sold as "stir fry vegetables") to add some extra variety. I have also been known to make this dish using only the frozen stir fry vegetables if it's all I've got or if I'm in a real hurry – there's no chopping, preparing, just open the bag and pour the veggies in.
Today I'm adding about half a packet of frozen veggies to add some colour to the mix.
You'll also want to get your noodles ready. I literally just use the instant/2 minute type noodles that come clumped together in noodle cakes (?!), but you can also use any type of noodle that you prefer, dry or fresh, just follow the directions on the packet to prepare them.
To get ready before the cooking starts I usually put 3-4 "cakes" of noodles into a bowl – we'll add boiling water to it further into the cooking process.
I like to gather together the other ingredients we're going to need too as the cooking process is fairly quick so it's a good idea to have everything together and ready to use.
For this easy recipe we'll be using soy sauce, honey, oyster sauce and sweet chilli sauce. (You'll also need oil for frying – I like to use peanut oil for this dish as it adds some asian flair, but you can use a different oil if you prefer).
Once all of your ingredients are prepped and ready to go, it's time to start cooking.
Begin by adding 1-2 tablespoons of peanut oil to your wok and let this heat for 30 seconds or so.
Once your oil is nice and hot begin by adding the frozen vegetables (if using) first. If you're not using any frozen vegetables just go straight to the fresh vegetables.
Stir and cook for a minute or so until the veggies are all separated and not clumped and frozen together. Then add some of the fresh vegetables – the hardest ones first (like carrots, celery, broccoli and cabbage).
Cook and stir for a minute or so, then add any softer vegetables that don't take as long to cook such as snow peas.
Again continue cooking and stirring for another minute or so, then add some oyster sauce – about 1-2 tablespoons depending on how much you are cooking and how saucy you like your vegetables.
Put your kettle on to boil up some water to cook the noodles.
You know the drill now, cook and stir, then add ½ to 1 Tablespoon of soy sauce. You can probably tell from my pictures that I haven't measured any of the sauces – I just add a slurp or two as I see fit – true home cooking at its best!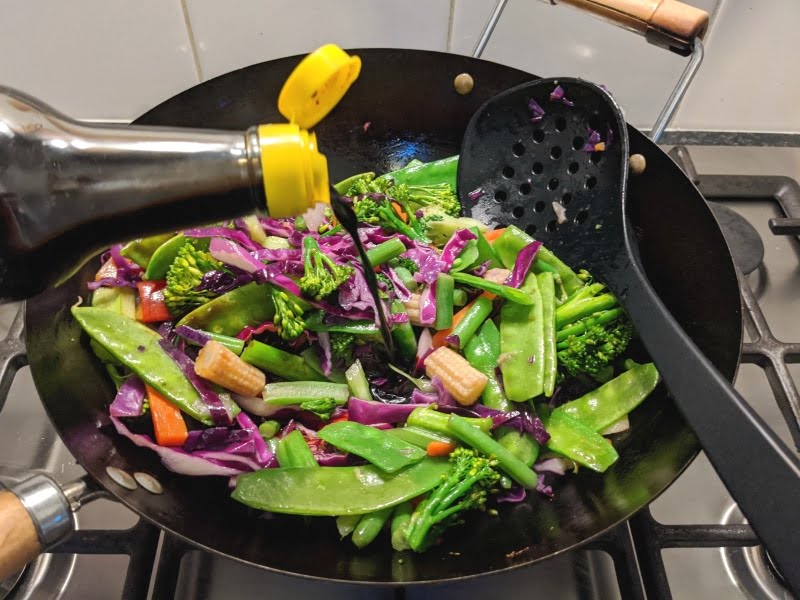 Cook and stir then add a good dollop of honey, about a tablespoon, more if you like things really sweet.
Hopefully your kettle has boiled about now. Pour boiling water over your noodles to completely cover them and set a timer for 2 minutes.
While the noodles are cooking, continue with the cooking and stirring of the vegetables in the wok and add some sweet chilli sauce, again, about 1-2 Tablespoons.
Once you've completely stirred the sweet chilli sauce through the vegetables it's a good idea to do a taste test. Pick a veggie (carrot works well for this) and pull it out with a fork. Taste it then add more soy sauce if you think it needs more salt, more honey for sweetness or more sweet chilli sauce for a stronger flavour.
By now your noodles should be cooked so you can strain them and add them to your wok.
Continue cooking and stirring until the noodles are mixed through the vegetables and have taken on some colour from the sauce.
Such a quick and easy dish to prepare and a yummy way to get a good serve of veggies! Enjoy!
Stir Fry Veggie Noodles Recipe
If you like recipes with exact measurements this one isn't for you! I always make it (and I make it often) by sight and taste and have never measured anything. It's a true make it up as you go along recipe!
Print Recipe
Stir Fry Veggie Noodles
Ingredients
Mixed stir fry vegetables - quantity will depend on how many people you are cooking for and whether you are cooking this as a main meal or a side dish.

Frozen mixed vegetables if desired.

2

Tablespoons

peanut oil

or preferred oil

2-4

"cakes" dried instant/2 minute/cup noodles

or noodles of your choice

Boiling water

enough to cover noodles

1-2

Tablespoons

Oyster Sauce

½ -1

Tablespoon

Soy Sauce

1-2

Tablespoons

Honey

1-2

Tablespoons

Sweet Chilli Sauce
Instructions
Chop and prepare all vegetables before you start cooking - cut them into similar/bite-sized pieces.

Put noodles into a heat proof bowl ready to cook.

Heat a wok or large frying pan and add oil.

Once oil is hot (30 seconds or so) add vegetables - frozen (if using) first, followed by harder vegetables and then finally add in any softer or faster cooking vegetables.

Cook and stir.

Add oyster sauce.

Cook and stir.

Add soy sauce.

Continue to cook and stir.

Pour boiling water over noodles and allow them to sit for 2 minutes.

Meanwhile add the honey and the sweet chilli sauce to the vegetables and stir through.

Once noodles are cooked/heated through, strain and add to the wok/vegetables.

Stir through until noodles are mixed in with the vegetables.

Serve as a side dish or a main meal.
It's not a classy, fancy recipe – let's face it, it's two minute noodles mixed through stir fry vegetables – but it's quick and tasty and "Stir Fry Veggie Noodles" as we call it in our house is a firm family favourite that gets slotted into our meal rotation at least weekly. We hope you enjoy it too!